SKIN THAT'S MORE COMPLEX THAN YOU THINK
Hormones play a significant role in the condition of the skin, and if you compare men's and women's skin, there are differences in structure. Higher testosterone levels cause men's skin to be about 20% thicker than women's. Their skin also contains more collagen and produces twice as much sebum. As a result, the hydrolipidic film on the surface of men's skin is stronger. Their skin is firmer, better protected and less sensitive. Plus, it ages more slowly. And no, it's not fair! But while men's skin may seem tough and resilient on the outside, it's actually more complex than you might think. Because it produces lots of sebum, men's skin is oilier than women's skin. And, of course, excess sebum and oily skin can lead to clogged pores, blackheads and shine.
There are other disadvantages too… Men's skin sweats more, which makes it more dehydrated. The subcutaneous layer of fat is finer, so the skin loses moisture more easily. It also has to cope with the harsh effects of shaving, which can damage the skin and cause micro cuts, irritation, ingrown hairs, etc. This takes its toll on the hydrolipidic film, which consequently finds it more difficult to fight off bacteria – leaving the skin more prone to blemishes.
► Men therefore need skincare products that moisturize, regulate, soothe and repair.
WHAT ARE THE SIGNS OF SKIN AGING IN MEN?
It's important to provide men's skin with active ingredients that work to prevent and soften the appearance of the signs of aging. While men's skin may age more slowly than women's, after a certain age, wrinkles and fine lines will naturally form. Less collagen and elastin are produced, and the skin starts to sag. Another thing that happens with aging is that cell renewal slows down. Dead skin cells build up on the surface of the epidermis and the skin becomes duller. As the skin becomes more dehydrated, it tends to feel tight and uncomfortable. 
► An anti-aging product for men must therefore act on the appearance of wrinkles, cell renewal and dullness, and improve skin suppleness and comfort.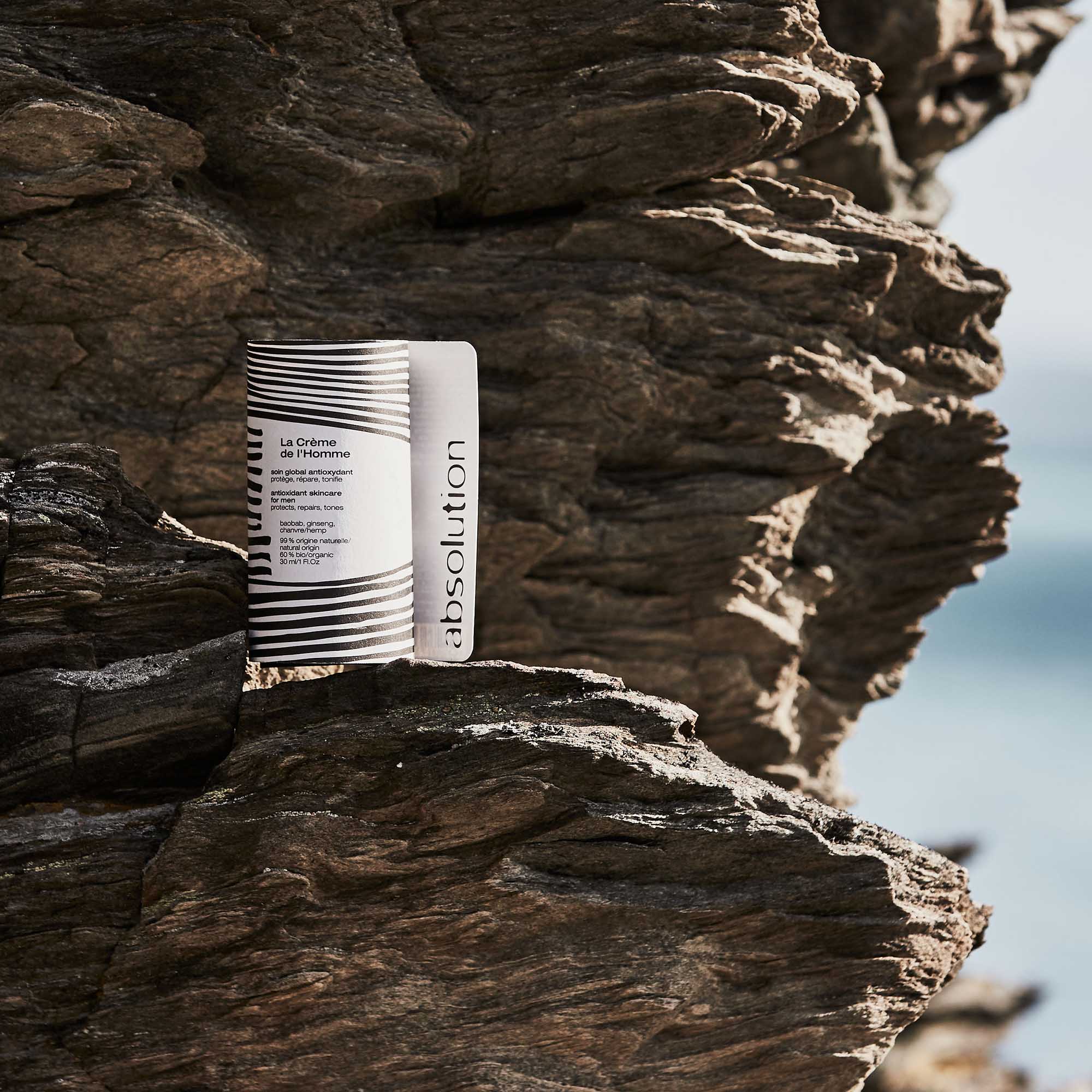 CHOOSING A NATURAL, ORGANIC ANTI-AGING CREAM FOR MEN
To effectively meet the specific needs of men's skin, while also helping to prevent or reduce the appearance of the signs of aging, opt for high-performance, natural, organic skincare products. It's worth looking at the fatty substances contained in an anti-wrinkle cream. A cosmetic cream is made from an emulsion consisting of an aqueous phase and an oil or fat phase. These make up the main part of the product, so they must be chosen carefully.  
Avoid formulations that contain mineral oils derived from the petrochemical industry. To do this, look out for the following ingredients: Paraffinum Liquidum, Petrolatum, Cera Microcristallina, Mineral oil. You should also look out for ingredients ending with methicone or siloxane. The effects of these ingredients on the skin are minimal: they form an occlusive film that holds in moisture, but they can block pores and may also present health risks. The good news is that they're forbidden by organic certification bodies – another good reason to seek out a certified-organic anti-wrinkle cream for men!
Look for botanical oils – but not just any plant oils! Organic, virgin, first cold pressed oils are best. Rich in high-quality lipids, they're able to penetrate the skin's hydrolipid barrier, to protect the skin without making it greasy. What's more, each botanical oil has its own distinctive properties – soothing, repairing, antioxidant, anti-inflammatory, etc. – to meet the skin's needs. And when the skin is naturally moisturized and regulated, it no longer tries to compensate by overproducing sebum.
Cosmetic products penetrate men's skin more easily. So, whether you're looking at the oils or other active ingredients in a face cream, look for good quality and always give preference to natural and organic ingredients! That way, you'll avoid the less desirable ingredients in conventional anti-aging creams (petrochemical derivatives, preservatives and fragrances that irritate the skin, endocrine disruptors, etc.), which can be dangerous and upset your skin. At Absolution, we're very fussy about what we put in our products. As a result, we can guarantee natural, certified-organic skincare products, free of parabens, PEGs, mineral oils, GMOs and synthetic colorants and fragrances.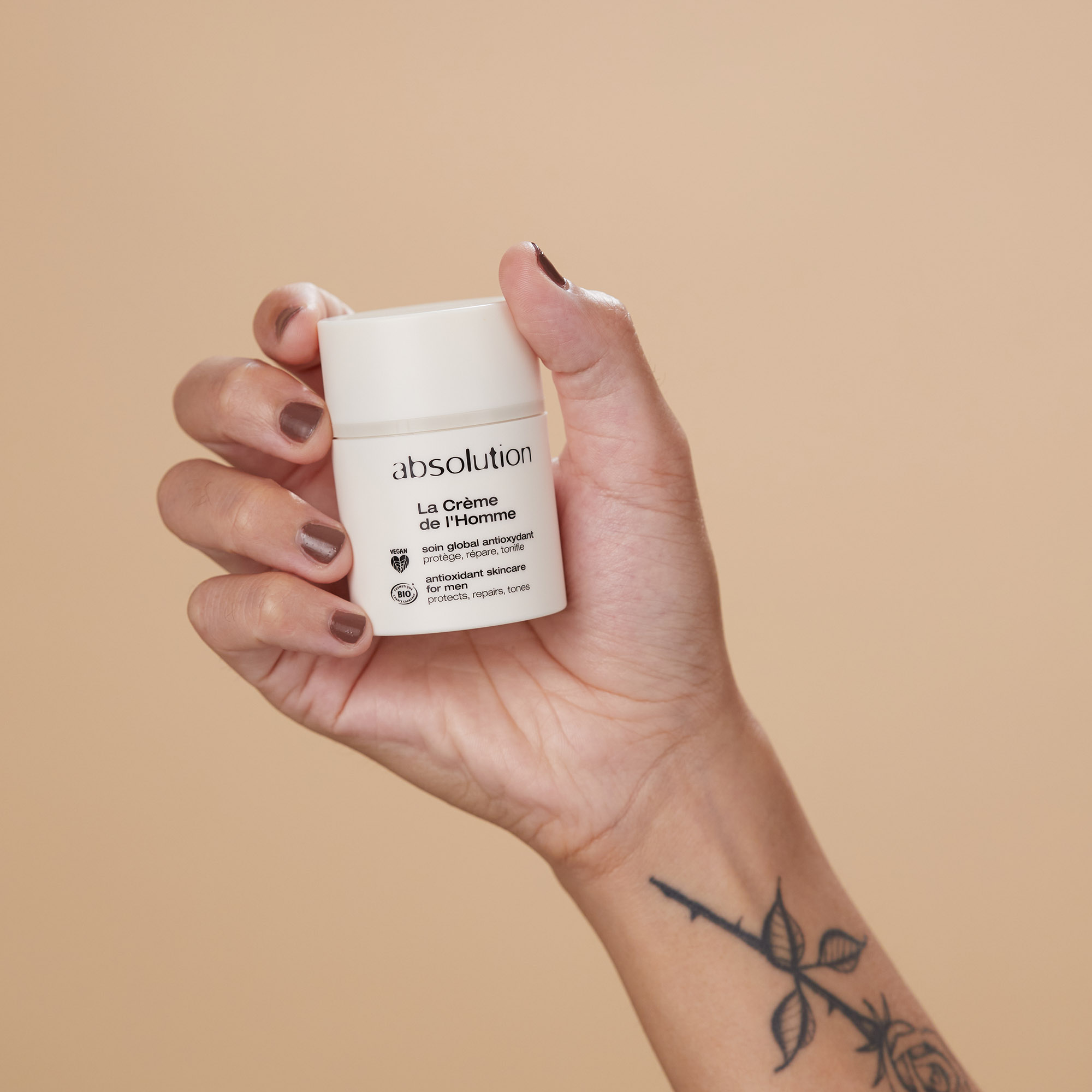 LA CREME DE L'HOMME: POSSIBLY THE ULTIMATE ORGANIC ANTI-AGING CREAM FOR MEN…  
Formulated with 99% naturally derived ingredients, 60% of which are organic, La Crème de l'Homme is an organic anti-aging cream that's tailored to the needs of men's skin. It works to protect, repair and smooth the skin, and leaves it matte – not shiny! Its action is enhanced by the soft focus effect of Mica, which visibly reduces the appearance of wrinkles and fine lines. La Crème de l'Homme contains organic, virgin, first cold pressed oils:
       Baobab oil, to help the skin fight free radicals;
       Hemp Seed oil, which helps to protect the skin against environmental aggressors and provides it with elements that are essential for its structure and to help maintain its youthful appearance;   
       Jojoba oil, which is bursting with benefits: incredibly gentle, it works to calm, soften, protect, restore balance, regenerate, smooth and firm the skin, while fighting dehydration and helping to prevent the formation of wrinkles;  
       Sesame oil, which soothes irritated skin.   
       La Crème de l'Homme also contains other natural anti-aging active ingredients that are ideal for caring for men's skin, including:
       Ginseng, to invigorate and firm;
       Hyaluronic Acid, which works to moisturize and smooth the skin, while maintaining its elasticity;
       Aloe Vera, with excellent moisturizing and healing properties, which fights cellular aging.  
With a beneficial organic blend at the heart of its formula, La Crème de l'Homme provides your skin with all the natural elements it needs to help maintain its balance and prevent or diminish the appearance of signs of aging. So, how can you incorporate it into your routine? Every morning, press once on the top of the pot so it delivers just the right amount. Apply with upward smoothing strokes to the cheeks, forehead, sides of the nose and neck. And if you have a beard – and it isn't too long – it might even enjoy it too!