Are your hands particularly dry in winter? Do they show signs of atopic dermatitis, eczema or rashes? We give you some tips and advice so you can repair and protect your hands, and help prevent the appearance of red patches on the skin.
What causes red patches on the hands?
Skin that's prone to irritation
Does the skin of your face often feel tight? Is the skin on your knees, elbows, hands and feet often dry? If so, you probably have sensitive, dryness-prone skin that may also be easily irritated. Many daily activities, not to mention environmental conditions, can take a toll on your hands, leaving them more fragile, sensitive, and vulnerable to irritation. Your skin may frequently feel uncomfortable – particularly after washing – and needs to be moisturized and nourished more often than the rest of the body. In cold weather, your skin might feel tight and itchy, and develop red patches. The result? Not only does your skin feel uncomfortable; you feel uncomfortable about your skin.
Skin conditions
While your skin may be naturally dry, there are also various conditions that can affect the skin of the hands and cause redness, itching and tightness. The most common of these is hand eczema – a skin condition characterized by red patches with itching and dryness. To treat hand eczema, make sure you see a specialist, such as a dermatologist or allergist, so you can understand the causes and factors behind your symptoms. You should also protect your hands against environmental aggressors and moisturize them several times a day to keep these symptoms at bay.
Calm redness on the hands
Gently cleanse
Care for your sensitive hands by using mild cleansing products with gentle formulas. Avoid soaps made with harsh cleaning agents, which can irritate the skin. Once you've washed your hands, make sure you dry them well, as humidity can irritate dry and sensitive skin.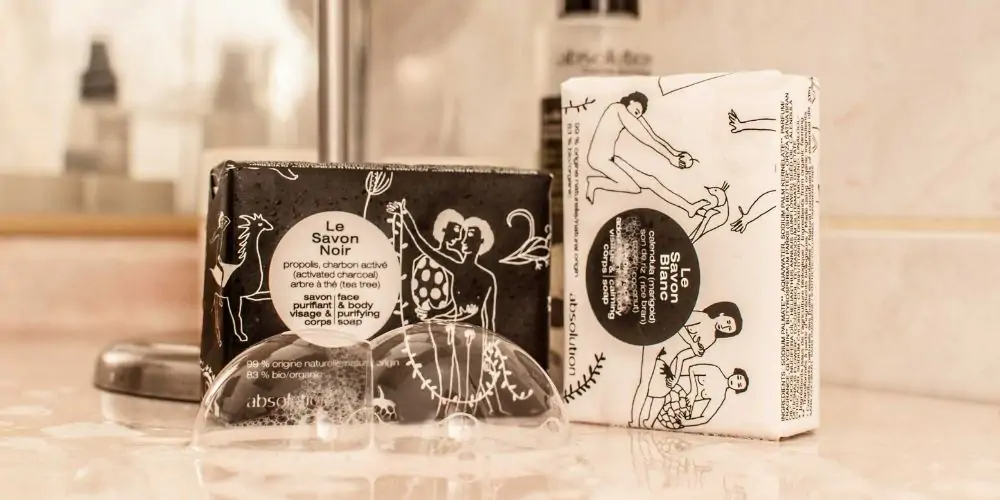 Absolution has the perfect solution to gently cleanse your hands: Le Savon Blanc – a certified-organic, softening soap bar enriched with soothing and protective ingredients.
Calendula is known for its softening and healing properties.
Rice Bran oil boasts excellent antioxidant properties. It helps to protect against skin aging and environmental aggressors, while improving suppleness, elasticity and comfort. Both calming and soothing, it's the ideal oil for sensitive skin!
Coconut oil nourishes, deeply repairs, soothes irritations, and softens.
Good to know: Le Savon Blanc can be used on the entire body and on the face. It's certified organic, vegan, palm oil-free, and wrapped in recyclable paper.
Our tip: If you can, install a water softener in your home. This will make your water less hard, and therefore less drying on your skin.
Moisturize regularly
Just like the skin of your lips, the skin of your hands is naturally low in sebaceous glands. This makes it impossible to maintain an optimal level of moisture without the help of cosmetic products. But what makes our hands so sensitive? Because our hands are almost always exposed, they're constantly coming into contact with daily environmental aggressors (pollution, UV rays, harsh climatic conditions) as well as various irritants (cleansing gels, hand sanitizer, repeated washing, etc.). All these factors can weaken the skin's hydrolipidic film and throw the skin off-balance. To care for your hands and help them cope with all these damaging factors, we developed Le Soin des Mains – a certified-organic, nourishing hand cream that works to repair weakened skin, fade pigmentation marks, and strengthen the nails. Three key active ingredients in Le Soin des Mains give it its repairing and nourishing benefits.
Nori seaweed: Often used in Japanese cuisine to add flavor and nutritional value, this seaweed is also an excellent ingredient for the skin! An active ingredient derived from Nori seaweed, called Helionori®, helps to prevent sun damage and premature aging due to UV rays, so it's ideal for preventing and fading dark spots on the hands.
Licorice: This ingredient works to soothe redness, and inhibits the enzyme responsible for dark spots on the hands. A rich source of glycyrrhizin and flavonoids, Licorice helps to soothe sensitive and irritated skin.
Zinc: This trace element helps to neutralize free radicals, which play a key role in premature skin aging. It also helps to strengthen keratin – a protein found in the skin, nails and hair.
Every time you wash your hands, use hand sanitizer, or simply when your skin starts to feel tight, apply Le Soin des Mains to clean skin. Its deeply hydrating, nourishing formula sinks in easily, and won't leave your hands feeling sticky afterwards. So you can get back to what you were doing without having to worry about leaving traces of cream everywhere!
If you want to give your hands a rejuvenating boost, apply a thick layer of Le Soin des Mains just before going to bed, so it can deeply nourish your hands and nails overnight. To enhance its hydrating effect, slip on some silk or cotton moisturizing gloves to protect against rubbing during the night and ensure all the cream can be absorbed.
Protect your hands
To help prevent skin irritation, always protect your hands when you use them. Wear gloves when you're doing manual work such as DIY or painting, as well as housework and washing the dishes. In cold weather, you should wear gloves every time you go out – not just to keep your hands warm, but also to prevent dryness and painful cracked skin. In summer, don't forget to apply sun cream to your hands. Finally, if you're someone who loves getting a manicure, be picky about your polish!
Look for one that doesn't contain any harmful ingredients (or as few as possible). As for nail polish removers, try to find one made with natural ingredients, which will be more gentle on both your nails and cuticles.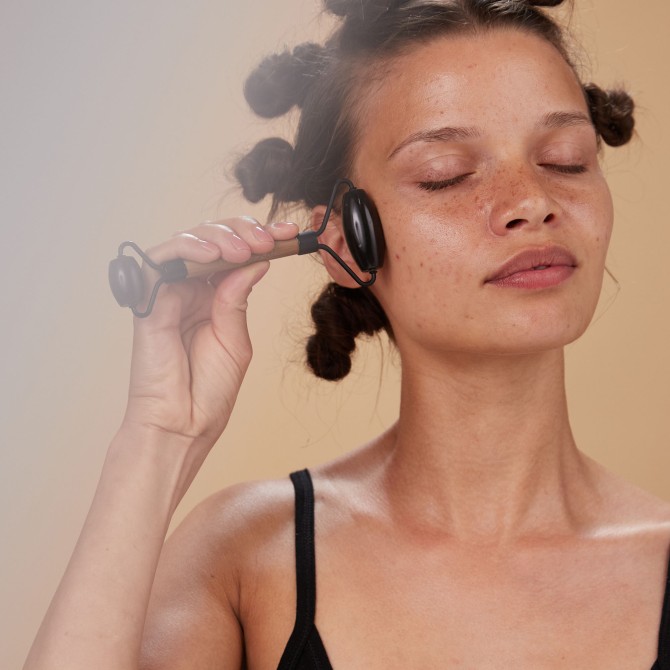 Learn about the benefits of facial lymphatic drainage to brighten your complexion and bring out your skin's natural beauty!
Contrary to popular belief, oils are perfectly compatible with oily skin, as long as you make the right choices! Find out how to choose the most appropriate botanical oils to regulate and care...
Is your sensitive skin prone to redness? Find the best skincare routine to address this problem and reveal your skin's beauty, with Absolution.