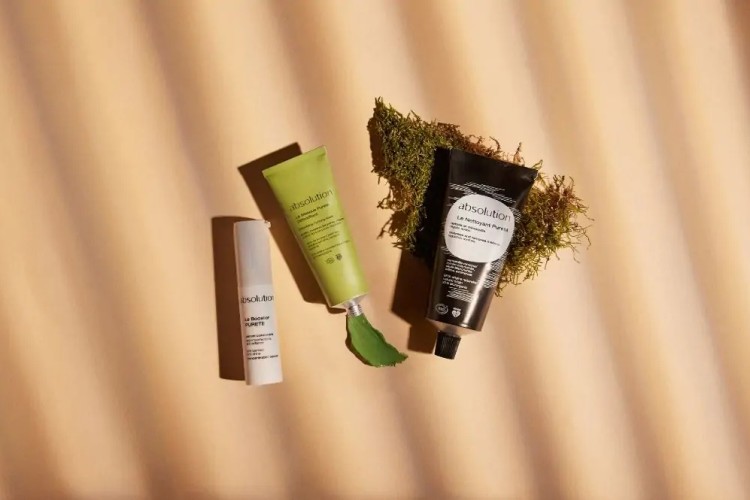 Six tips to get rid of blackheads on the nose
It's a fact: blackheads can be stubborn. They're usually found in the T-zone and, more specifically, on the nose, and are caused by a buildup of pore-clogging impurities. If they're not treated correctly, they can even leave scars. Absolution gives you some helpful advice so you can get rid of them without damaging your skin.
Cleanse – but do it gently!
If you want your blackhead-busting skincare routine to deliver long-lasting results, it's absolutely essential that you cleanse your face really well at the end of each day. Just don't do it so "well" that you strip your skin in the process! You want to avoid inflammation, and that means treating your skin with the gentlest care.
Don't even think about products formulated with alcohol, as they'll be harsh on your skin and stimulate sebum production. Instead, look for mild formulas that are free from irritating surfactants and help to rebalance your skin.
What products should you use to cleanse your face gently?


Le Nettoyant Pureté is a very versatile cleanser. It's suitable for all skin types, and particularly combination and oily skin that needs to get its balance back. Made with naturally derived active ingredients such as Salicylic Acid derived from White Willow, it works to regulate and smooth even the most sensitive skin. This cleansing gel also removes makeup effectively – as long as it's not waterproof or long-wearing.

If you'd rather use a bar of soap to clean your face, try our very own, very special black soap: Le Savon Noir! Made in France and formulated with 99% natural ingredients, it's ideal for combination, oily or blemish-prone skin. Le Savon Noir is enriched with Activated Charcoal, Tea Tree and Propolis, making it excellent for purifying and detoxifying the skin.

If your skin is prone to dryness or easily irritated, opt for La Crème Douce Démaquillante instead. Within minutes, this cleansing cream removes toxins and traces of makeup. It leaves skin feeling comfortable and supple, and helps to bring your glow back! But that's not all… Thanks to its delicate Neroli scent, as you remove makeup and cleanse your skin, you'll also relax your mind.

Last but not least is our L'Eau Soir et Matin – an all-in-one formula that's ideal for anyone on a tight schedule. It removes makeup, purifies, softens and tones, and leaves skin perfectly clean. This cleansing water contains Lemon Balm hydrosol, with purifying properties, which helps to prevent minor blemishes, so it's perfect for incorporating into your anti-blackhead beauty routine.
Exfoliate – but again, do it gently!



Pesky blackheads are simply the result of blocked hair follicles. These follicles become clogged by a mixture of keratinocytes (dead cells) and sebum. This mixture oxidizes on contact with the air, forming dark-colored dots on the surface of the skin. Pollution, lifestyle factors and hormonal changes can all aggravate this process by affecting sebum production.

To boost the natural desquamation process (the scientific term for the shedding of skin cells), and get rid of the buildup in pores, it's recommended that you exfoliate once a week. If your skin is sensitive, every two weeks is best. Certified organic by Ecocert Greenlife, La Crème Gommante is a 2-in-1 formula that cleanses, softens, and stimulates skin's repair mechanisms – and it does all this without damaging the skin. It's very versatile, very gentle, and can be used in two ways:
As an enzymatic exfoliant for extra-sensitive skin. Apply to the face then leave on for 10 minutes so the AHAs gently "nibble away" dead cells.
As a mechanical (or physical) exfoliant, if you have the kind of skin that likes granular scrubs. Take a generous dab of La Crème Gommante and massage over damp skin for a few minutes, then rinse.
For even softer, even more radiant skin, you could combine these two methods. Apply the exfoliating cream, leave it on for five minutes, then massage for one minute before rinsing it off. Soft skin guaranteed!

Another solution, if you want a natural and gentle way to exfoliate your skin every day, is the Konjac Sponge. Made from 100% plant fibers, from the roots of the konjac plant (also known as konnyaku), this little sponge doesn't contain any colorants, additives or preservatives. You can use it morning and evening to remove makeup, cleanse and exfoliate your face gently – and effectively! After about three months of use, a konjac sponge usually starts to disintegrate. When this happens, it can be composted. So, not only is it natural, it's also eco-friendly!
Detoxify the skin – without drying it out


If you have combination or oily skin, then you probably already know that it can be difficult to find purifying skincare products that don't have a drying effect. At Absolution, we know that when the skin feels like it's under attack, it will simply produce even more sebum in an attempt to defend itself. That's why we've developed purifying skincare products that are gentle and, above all, won't dry out your skin!

Morning and evening, apply L'Essence Botanique PURETÉ to clean skin, just before your other skincare products. A cross between a toner and a serum, this rich botanical water has hydrating, astringent and regulating properties. Enriched with Hemp Seed oil, Burdock root and Myrtle, it's excellent for fighting blackheads and regulating sebum production.

Next, add a drop of Le Booster PURETÉ to your face cream (both morning and evening) to purify spots and help control shine. This blend of natural purifying and repairing ingredients works in 24 to 48 hours to reduce inflammation in spots and limit the scars they can leave behind.

Once or twice a week, treat your skin to a face mask such as Le Masque Pureté Détoxifiant. Formulated with purifying White Willow, skin-regulating Zinc, oxygenating Maté and detoxifying Spirulina, it rids skin of impurities and restores radiance and vitality in just 10 minutes!
Deep cleanse – without damaging the skin
Whether they're on the forehead, chin or nose, blackheads can be difficult – and even painful – to remove. If you want to unclog pores, forget about pore strips, blackhead extractors and electric blackhead suction devices! At best, they risk being ineffective. At worst, they risk damaging your skin, making tiny red vessels appear on the skin surface, leaving behind scars, and causing spots to form on the face.

There is one way to dramatically enhance the effectiveness of your blackhead-fighting products, a way that has always been proven to work – and that's a facial sauna! Steaming your face is ever so simple. You just place your face over a container filled with boiling hot water for ten minutes and cover your head with a large towel. To increase the purifying effect, you could add half a lemon cut into slices to the water. The steam softens your skin and loosens pores, making them easier to unclog. Follow with your skincare products (exfoliant + mask) or remove blackheads manually if there are lots of them. Make sure your hands are perfectly clean, wrap a clean tissue around your fingers, and whatever you do, don't press too hard, to avoid creating tiny lesions.
Moisturize – but keep it light


Oily to combination skin produces too much sebum (a condition called hyperseborrhea), and this makes it more prone to blackheads. You'd be forgiven for thinking that oily skin is over-nourished. In fact, just like dry skin, it needs both nourishment and hydration. Every day, everyone's skin loses water through "insensible water loss." To compensate for this, it's essential to hydrate your skin from within and apply skincare products. However, when it comes to oily skin, the challenge is to give it the moisture it needs while also regulating sebum production.

The best way to do this is by using moisturizers with light, fluid textures that won't "weigh down" your skin. Le Sérum Anti-Soif is ideal for blemish-prone skin. Rich in natural and organic active ingredients, this lightweight hydrating serum works to restore skin's moisture balance for up to eight hours (laboratory test results).

Apply to a clean face every day to keep your skin's hydration levels optimal! You could also combine this hydrating serum with La Crème de Santé – a moisturizing cream that has a light, fluid texture, making it great for oily skin. It works deep down, focusing on the skin's entire ecosystem, which often becomes unbalanced. How does it do this? By using Prebiotics, which feed your skin's good bacteria. Prebiotics help the good bacteria to grow and multiply, so they dominate the bad, pathogenic bacteria that can cause blemishes.
Protect your skin – generously
Pollution, UV rays, cold, heat… Every day, your skin is exposed to aggressors that can damage and weaken it. Remember that the skin is an ecosystem in its own right, and this ecosystem can be sensitive to change. That's why it's so important to look after your skin and do all you can to keep this ecosystem stable. Le Booster PROTECTION is a certified-organic concentrated serum that (as you may have guessed from the name!) gives your skin the protection it needs. Apply it before your daytime moisturizer to add an extra layer of natural protection against daily environmental stressors. See all Absolution products that work well with combination, oily and/or blemish-prone skin.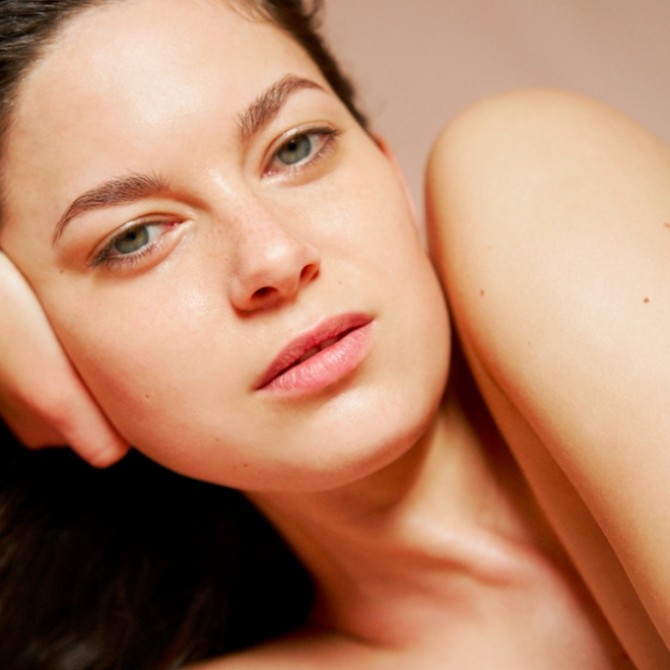 Blackheads, spots, microcysts... Does your skin have to deal with these problems every day? Find out more about ways to prevent them.
L'Essence Botanique Pureté: an expert formula to purify and balance oily skin.