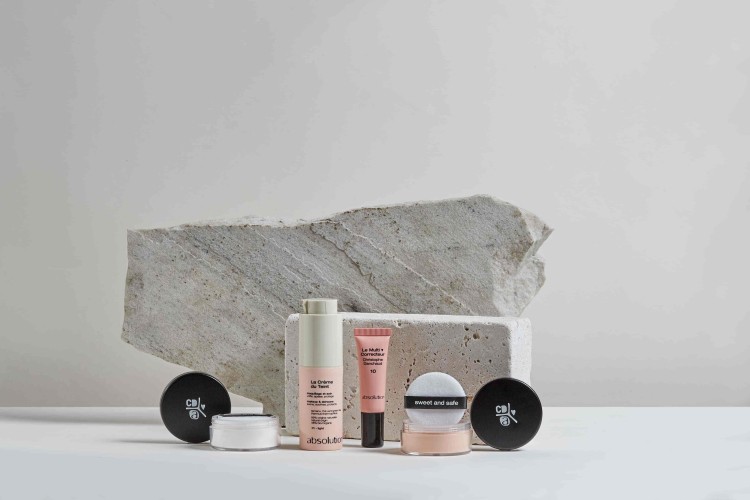 What kind of makeup is best for mature skin?
As the years go by, it's essential that you adjust your makeup routine so it cares for your not-so-young skin. When you get older, the characteristics of your skin change, along with its appearance, so it's important that your makeup takes these changes into account. Absolution gives you some tips and advice so you can find the ideal makeup products for your mature skin, while also giving it the pro-aging ingredients it needs.

Essential makeup products to make mature skin look beautiful


Hydrating must-haves for mature skin

From age 50 onwards, women know exactly what they want from their makeup. It has to make their complexion look fresh and bright. It has to make their eyes look more open, without looking severe. And it has to give a touch of color to their lips. Plus, they want to achieve all this with certified-organic products that are good for their skin. 

If you're among these women, then you already know that the quality of your skin is no longer the same after the age of 50. It's drier, finer, less even toned, and its natural color may have become lighter. But before you get your makeup out, you must prepare your skin by applying skincare products that will work to keep it healthy while preventing the appearance of signs of aging, with the help of antioxidant ingredients.

Once you reach the age of 50, your skin loses tone and becomes drier and thinner. Facial contours lose their definition, while lines and wrinkles become more numerous and deeper. So, before you even apply makeup, your first pro-aging step should be to protect the skin against oxidation using active ingredients that help to restore density, restructure and smooth the skin, and promote proper cell functioning.


La Crème du Temps makes an excellent makeup base for every day. It works to firm and smooth out the skin, and even out skin tone. This exclusive formula is a blend of over 20 botanical extracts, which work together to redensify the skin, combat the appearance of wrinkles, and deliver instant hydration.

La Crème du Temps doesn't promise eternal youth, but it does promise an effective formula. It makes you want to be true to yourself, with a little help from nature. Atlantic Wakame – a brown seaweed with antioxidant properties – helps to maintain suppleness and elasticity. Pomegranate Seed Oil promotes skin regeneration and helps to fight free radicals. Alpine Edelweiss helps to combat sagging, while Poet's Narcissus provides targeted action, working to diminish the appearance of dark spots by reducing melanin production.

To prep your mature skin for makeup (and make it look amazing!), combine La Crème du Temps with Le Booster LIFT – our redensifying, gravity-defying serum. Ensuring that your skin is perfectly hydrated will help your makeup stay in place all day, every day.


Choose the right products to illuminate your complexion

With age, the skin becomes thinner and weaker, and takes longer to renew itself. Wrinkles, fine lines and signs of fatigue appear more easily, and the slightest upset can make your complexion look dull.

By giving priority to certified-organic makeup products, you can enjoy a more even-toned, more luminous complexion while taking care of your skin at the same time. There are no mineral oils, silicones or dubious preservatives – just beneficial, natural ingredients.

If you have uneven skin tone, and particularly if you also have deep wrinkles, foundation is not always a great idea. It can settle into creases and actually accentuate the imperfections you wanted to conceal. So what's the best solution? Look for hybrid formulas that will even out skin tone without creating that cakey effect.

La Crème du Teint is a 2-in-1 makeup-and-skincare product that's ideal for protecting the skin against pollution while evening out the complexion. It's formulated with high-performance natural active ingredients, such as Tamanu Oil, which helps to fight dark spots, and antioxidant Green Tea, which helps to protect cells from oxidation and increase skin's production of collagen and elastin. There's also Jojoba Oil, which helps to regulate the skin, regenerating Rose Hip Oil, Aloe Vera, and Fucocert – a powerful anti-aging ingredient. It's best to apply this product with your fingers or a moist makeup sponge like the Beauty Blender, so it goes on smoothly.

If you have hollow dark circles or bluish under-eye circles, or other minor skin irregularities that you want to conceal, we suggest using Le Multicorrecteur. Rich in natural pigments, calming and softening Jojoba Oil, de-puffing Cornflower Water and anti-redness Chlorella, it gives adjustable coverage and a natural-looking finish, for an imperceptible second-skin effect. The fluid texture is easy to apply. Pat onto the skin under the eyes with the pad of your ring finger or a makeup sponge, without spreading the product. That way you'll avoid creasing.

Next, remember to set your makeup with a loose setting powder. La Poudre is an essential step in any face makeup routine. It mattifies, illuminates and evens out the complexion, while helping your face makeup stay put all day. It also works really well with mature skin as it's rich in Hyaluronic Acid – an ingredient renowned for its ability to retain water in tissues and maintain skin elasticity – and Honokiol, an active ingredient extracted from the Magnolia plant that boasts powerful antioxidant properties.

Finish with a touch of blush, opting for one with rosy pigments, which will neutralize those yellow undertones that are sometimes seen in mature skin. Our Bois de Rose N°11 natural lipstick can easily be used as a blush too – so it's perfect if you don't want to have too many products in your makeup bag! Dab a little lipstick onto your finger, then apply to your cheekbones and eyelids to instantly wake up your complexion.


Make your eyes look bigger and younger

Now that your face is done, it's time to move on to the eyes! As you get older, give preference to eyeshadows in nude tones, such as beige, taupe or even chestnut. Avoid overly shimmery eyeshadows, as they tend to accentuate creases and fine lines.

For your lashes, opt for a lengthening mascara that will also help to strengthen them. With age, lashes get lighter, but they also tend to get thinner and weaker. This is why it's so important to find a caring mascara that will look after them with a blend of targeted active ingredients. Our Sweet & Safe mascara separates, lengthens and thickens lashes thanks to its hourglass-shaped brush, which coats every lash. Its organic formula combines makeup and care – and delivers long-lasting, professional results. Abyssinian Oil is an excellent oil for your lashes, due to its coating and nourishing properties. 100% natural Carnauba Wax helps mascara last longer, while Beeswax, rich in Vitamin A, nourishes naturally.


Finally, don't forget to redefine your brows. As the years go by, they tend to become thinner and sparser, and lose their shape. Take an eyebrow pencil that's the same shade as your brows and use it to fill them in. It's one of the best ways to make your eyes look sharper, brighter and younger!


Enhance and plump your lips

Last but not least, it's time to make up your lips. Redefine, rehydrate, plump and smooth your lips with formulas enriched with hydrating and nourishing ingredients that will leave them feeling beautifully comfortable. Our lips tend to become thinner and drier as we age, and this is perfectly natural. To prep them for lipstick, begin by applying Le Baume, to nourish and repair. You can use this balm all year long, whatever the season, but it's particularly useful in winter, when harsh environmental conditions can take their toll on your lips.

Next, apply your lipstick. Generally speaking, it's best to opt for soft, luminous shades that will enhance your complexion and give you a radiant smile. Matte textures and darker colors can make your lips look thinner and harsh, which is why it's better to use cream and satin textures for their plumping effect.

All Absolution lipsticks are formulated with 96% naturally derived ingredients and 27% organic ingredients. They're enriched with plant oils and butters (Apricot, Shea, Castor, Jojoba and Sunflower), with softening, hydrating and nourishing properties. Plus they're free of parabens, PEGs, phthalates, mineral oils, GMOs and synthetic fragrances and coloring agents, so they won't harm your health – or the planet.




When choosing a lipstick for mature lips, it's important to get the color right. We recommend Le Rouge Bois de Rose N°11 – the ultimate natural pink that you can wear both day and night. There's also Le Rouge Coquelicot N°16 – a brighter color that wakes up your complexion and makes your lips look very alluring! And if you're feeling bold, why not try Le Sorbet Cerise N°03? It's a red that's subtle but also seductive...whatever your age!