Which face scrub should you choose for your skin?
When your complexion is looking dull and your skin could do with a good workout, there's nothing better than a little exfoliation! But do all skin types need to exfoliate? Absolution gives you some tips and advice...
While your face's skin type stays the same throughout your lifetime, seasonal changes can affect the condition of your skin. When its condition gets worse, it needs a good workout to bring its glow back. To get your skin looking like new, you need to exfoliate. This helps to stimulate mechanisms in the skin that will make it look so much better! But not all exfoliants are suitable for all skin types... We take a look at different types of exfoliator – from standard exfoliants with granules to new-generation exfoliants with fruit acids – and help you to decide which one's best for you.      
The benefits of a facial exfoliant
An exfoliating product contains exfoliating granules or "enzymatic" active ingredients that work to remove dead cells, unclog blocked pores and rid the skin of surface impurities that make it look dull. 
Unfortunately, many women do not include an exfoliant in their beauty routine, despite its many benefits! An exfoliant immediately refines skin's texture and helps to improve its radiance and luminosity. In the long term, exfoliation also has an indirect effect that is not so well known: it stimulates cell renewal and boosts the skin's elimination and repair mechanisms, to leave it visibly better oxygenated and protected. Finally, exfoliation makes your skin more receptive to the active ingredients in your daily skincare products.
Facial exfoliation: is it essential to exfoliate your skin? 
Most women forget to use an exfoliant in their skincare routine, and very often this is because they don't know if exfoliation is really recommended for their skin type. Any confusion surrounding this subject is not helped by the huge number of exfoliants (and active ingredients) available on the beauty market. Women with sensitive skin are probably the most reluctant to exfoliate. If their hydrolipidic film reacts to anything and everything, it won't always be resilient enough to protect the skin effectively... What's more, if you use an overly abrasive scrub on sensitive skin, it can cause discomfort, irritation, and lead to micro inflammation. 
So what's the best way to exfoliate your face, even if your skin is ultra-sensitive? It's all about using the right products, the right techniques and the right textures! 
The different types of facial exfoliants
An acidic exfoliant: this chemical exfoliant is inspired by professional methods that are well known in dermatology. The acids used are AHA (alpha hydroxy acids) and BHA (beta hydroxy acids), which are derived from fruit acids or organic compounds. They act on impurities through a peeling process, rather than through a mechanical action, so there are no granules to rub over the skin. This kind of product is ideal for skin that needs a radiance boost.
The main acids used in this type of exfoliant are:  
-       Lactic acid (AHA), derived from the fermentation of milk, but it can also be synthesized. An excellent active ingredient for skin that lacks radiance, or to help reduce the appearance of pigmentation marks.  
-       Glycolic acid (AHA), derived from sugar cane, ideal for helping to prevent the effects of skin aging.  
-       Salicylic acid (BHA), which is mostly used to treat oily skin that produces too much sebum, but also on blemish-prone skin. Salicylic acid is lipophilic, which means it can dissolve in oil, and this makes it ideal for combating blackheads and micro cysts.   
An enzymatic exfoliant: just like an acidic exfoliant, this is a granule-free, chemical exfoliator. It contains botanical enzymes derived from fruits (called proteases) that are very gentle on the skin. This type of exfoliant is slightly more gentle than an acidic exfoliant and can be used by all skin types.  
 A mechanical exfoliant, or scrub: as its name indicates, this is a formula made with granules that are used to "scrub" the skin. It's the standard – and most popular – type of exfoliant. The granules may be synthetic or natural. Scrubs are not usually recommended for sensitive skin, as it may become irritated if the granules are too abrasive. This doesn't seem fair on those who have sensitive skin types, especially since so many people love the way a scrub feels on the skin!
 At Absolution, we've decided that sensitive skin should be able to enjoy the feeling of a scrub being massaged over the face... without developing a reaction! So we'd like to introduce our "miraculous" facial scrub: La Crème Gommante. 
La Crème Gommante: for all skin types – even sensitive 
Lack of radiance, blemishes, a dull complexion, loss of firmness... La Crème Gommante contains micro-granules that work to remove impurities and gently stimulate the skin. This encourages the skin to "reboot" its elimination and repair mechanisms. Offering both a gentle formula and targeted active ingredients, this granular exfoliant is suitable for all skin types, including the most sensitive. In a single, simple step, it deeply cleanses your skin.   
The active ingredients in La Crème Gommante
Aloe Vera: this medicinal plant is not just known for being a beautiful plant that's easy to look after; it's also known for its therapeutic and cosmetic benefits. The pure gel from the leaves is often used to treat burns, including sunburn, to help heal wounds, and to combat cellular aging. Like the cactus plant, it's made up over 99% water. The remaining 1% is a clever blend of almost 200 elements, including 80 nutrients and a powerful synergy of 12 vitamins (A, B1, B2, B3, B12, C, E…), as well as numerous minerals, trace elements and amino acids.  
Almond: the oil extracted from almonds is very gentle, very pleasant to apply, and leaves skin feeling velvety soft. It's rich in fatty acids, including omega 6 (linoleic acid) and omega 9 (oleic acid), Vitamins A and E, minerals, trace elements, phytosterols (which promote skin microcirculation) and terpenic alcohols (don't panic, they play a protective role!). With its softening, emollient and strengthening properties, almond oil works to nourish the skin, protect against drying and promote skin repair. And because it has soothing benefits, it also helps to relieve itching and irritation.  
Amaranth: native to Central America, Amaranth was one of the sacred plants used by the Aztecs as well as a food staple in their everyday diet. This annual herbaceous plant has large leaves and small, edible seeds, very similar to quinoa. Rich in lipid components, including nourishing and softening squalane and sterols, Amaranth extract helps to protect the skin and also nourishes it when it's more receptive (i.e. when exfoliated). Its antioxidant and anti-inflammatory properties help to prevent skin reactions.  
AHAs: fruit acids derived from blueberry, lemon and orange that help to fight dark spots and promote cell renewal, with a very gentle exfoliating action.  
Bentonite: this colloidal clay absorbs excess sebum and impurities. We also like it for its remineralizing action.
Diatomaceous earth: derived from the skeletal remains of diatom microalgae (diatomite), which is ground into a powder that can be used to mechanically exfoliate the skin.  Composed of 80% silicon, as well as around fifteen trace elements (magnesium, manganese, potassium, etc.), its granules are very fine and have a rounded form. This enables them to lift away dead cells without damaging the skin. Diatomaceous earth is naturally rich in silicon, which is also very beneficial for the skin. Silicon encourages collagen and elastin synthesis, making the skin stronger and more supple. It helps to improve skin hydration by making skin less sensitive to environmental aggressors, promotes healing and helps to address skin conditions.  
Neroli: with its soft, calming scent, Neroli hydrosol helps you to relax and sleep. It has regenerating and antibacterial properties, enabling it to gently soften the skin and restore its balance. 
Zinc: this purifying trace element helps to prevent the growth of bacteria on the skin and neutralize free radicals. Because it has an anti-inflammatory action, it encourages healing and calms skin irritations.  It also helps to strengthen keratin (nails, hair).
Hazelnut oil: this oil not only has balancing and softening properties; it also has a non-greasy feel, which makes it particularly suitable for skin that produces too much sebum. Rich in monounsaturated fatty acids, it's an excellent source of Vitamins A and E. It also helps to boost collagen production, for firmer, smoother skin.
Other ingredients in this gentle facial scrub include Sweet Almond Pulp, rich in proteins, and Rosa Canina fruit oil, a close cousin of Rose Hip Oil,  known for its anti-aging properties, which helps to regenerate the skin by stimulating collagen production.
How to use it
Once a week, apply La Crème Gommante to a clean, wet face and neck. Leave on for a few minutes, then massage gently with circular movements over the sides of the nose, the chin, cheeks, forehead and neck. Take the time to enjoy the feeling of the tiny granules on your skin… And voilà! Your skin is exfoliated, without being damaged!  
Once you feel that your skin has had enough of a workout, rinse well with clean water, then pat your face and neck dry.
La Crème Gommante is ideal for prepping your skin for other products in your daily skincare routine.
For visibly radiant skin, follow with Le Masque Velours Repulpant – our anti-aging hydrating mask that works to restore density and smooth the face, to leave your complexion looking luminous and your skin feeling plumped. It's the perfect simple beauty routine to help you turn back time!  
Looking for the best natural body scrub? Learn all about Absolution's Le Gommage Corps Éclat – the secret to visibly softer skin!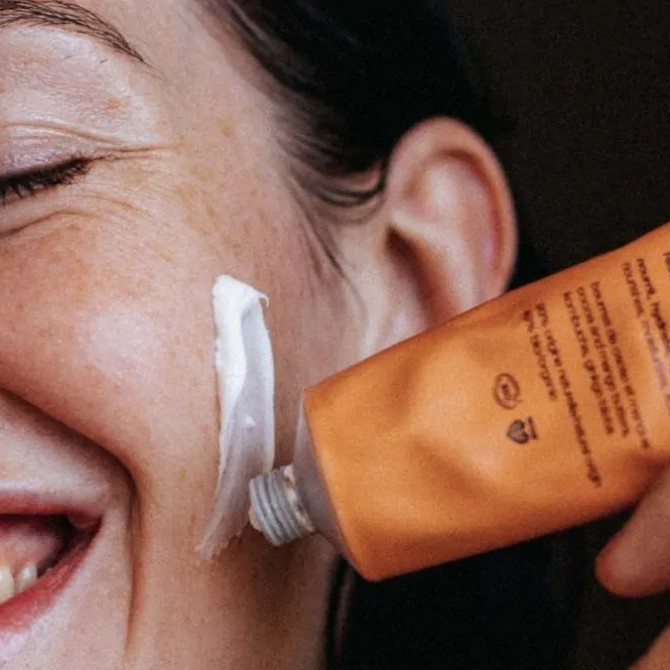 Looking for a face mask to make your face look more beautiful? Absolution helps you to choose the best active ingredients and textures, so you can find a mask to match your skin type!
Contrary to popular belief, oils are perfectly compatible with oily skin, as long as you make the right choices! Find out how to choose the most appropriate botanical oils to regulate and care...