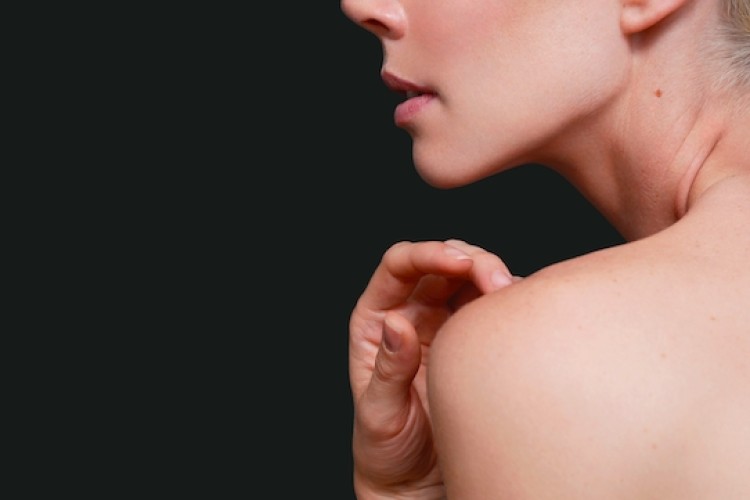 The characteristics of dry skin 
Dry skin is characterized by a lack of lipids. It doesn't produce enough sebum – a key element that normally serves to protect the skin. You can tell the skin is dry when it tends to be thin yet looks quite good, with barely visible pores. It doesn't shine during the day, and makeup stays on relatively well. However, it can feel rough, uncomfortable and tight, especially after cleansing. Dry skin is the result of the stratum corneum being too thin or no longer providing a watertight barrier. This causes the skin to become dry and sometimes flaky, plus it may often go red when there's a change in climate. Dry skin is also more often marked by fine lines, particularly around the eyes and lips. This can happen at quite a young age, starting from around 30 years old.
It's unusual for adolescents and young adults to have dry skin; they're much more likely to have combination and/or oily skin. However, if you do have dry skin, it's important to provide it with the right lipids, to compensate for the lack of sebum (unlike dehydrated skin, which lacks moisture). By doing this, you can keep dry skin well-hydrated, protected and comfortable, while also helping to fight premature aging. As the years go by, the skin loses density, and becomes thinner and drier. Even if you had combination or oily skin when you were younger, it may still become dry as you get older. So, it's crucial that you take good care of your skin to combat both the signs of aging and dryness. 
Dry skin and dehydrated skin: what's the difference?
The lipid cement is a natural component of the skin, serving to strengthen its impermeability and resistance. However, in dry skin, this cement is weakened, which means that water evaporates more easily from cells. This explains why dry skin is often also dehydrated skin – but it's important to distinguish between the two! And while we're on the subject, what exactly is the difference between them? Dry skin is a skin type. Dehydrated skin, on the other hand, is a skin condition. So, no matter what skin type you have (combination, oily, dry, etc.), it can also be dehydrated. This state of dehydration leaves the skin feeling uncomfortable. It creases like tissue paper when you pinch it between the fingers. But – and this is how you can distinguish between dry and dehydrated skin – when your skin is dehydrated, it also looks dull. It's a temporary skin condition; all you have to do is rehydrate the skin so it feels comfortable again. 
Hydration vs nourishment
Hydration
For your skin to be healthy and act as a protective barrier, it needs to be well-hydrated. Did you know that in the world of beauty, the term "moisturize" is often misused? In fact, it would be more accurate to say, "hold in the skin's moisture," thus helping to prevent water loss from the skin. Because skin is impermeable, no water or hydrophilic substances can penetrate it. Consequently, the aqueous part of cosmetic products doesn't actually hydrate the skin (except in the case of dry skin, which has a weak hydrolipidic film). For all other skin types, this aqueous part will simply evaporate. Good skin hydration starts from the inside. Make sure you drink enough water (at least 1.5 liters a day, and even more if you practice sports) and eat a healthy, diverse diet.
Next, to maintain your skin's moisture levels from the outside, there are two approaches you can take.
     Improve the quality of the intercellular lipid cement in order to prevent water from evaporating. To do this, opt for emollient products, such as botanical oils, which are able to strengthen the lipid cement.   
     Seal moisture in skin tissues by applying humectant ingredients, such as plant-based glycerin or aloe vera gel.  
The ideal solution is to combine the two approaches, with a cream for example. Alternatively, apply two products, starting with a humectant product and following with an emollient one.
Nourishment 
Dry skin needs to be nourished, to make up for its lack of sebum and strengthen the lipid cement. And to nourish the skin, nothing beats botanical oils! All plant-based oils have nourishing properties, but they also help to protect the skin and hold in moisture by maintaining its hydrolipidic film, which acts as a natural defensive barrier.
What's the best natural beauty routine for dry skin? 
For deeply nourished, soothed and comfortable skin, opt for a natural beauty routine that's tailored to the needs of dry skin.
    Cleanse without drying
At the end of the day, remove makeup and cleanse your dry skin gently with a product that will cater to its specific needs. The last thing you want to do is make your skin even drier! La Crème Douce Démaquillante is perfect: it dissolves impurities without disrupting your skin's balance, and can be used on even the most delicate skin. There's no tightness or redness! You don't need to cleanse twice a day if you have dry skin. Once is enough. In the morning, simply wake up your skin with a spray of La Brume Systémique or a floral water, then apply your day moisturizer. Now and again, treat your dry skin to some gentle exfoliation with La Crème Gommante. Perfect if your skin is looking dull or lackluster, or lacking firmness, this scrub contains microgranules derived from diatoms to slough away dead cells and stimulate the skin, accelerating cell renewal. Almond pulp works to nourish and soften the skin, while Amaranth seed extract helps to soothe the skin and smooth its surface texture. In a single step, this product leaves skin feeling deeply cleansed, velvety and luminous. Plus, it's absolutely gentle!   
    Focus on hydration and nourishment
Every morning and evening, continue your organic dry skin beauty routine by applying La Brume Systémique to clean skin. This product works to soothe, hydrate, nourish and regulate your skin in a single spray, while also helping to optimize your skin's protective capacity and boost the effectiveness of products applied afterwards. Next, apply an organic skincare product tailored to dry skin. Our Addiction oil can be used on its own or as a serum before your cream. An incredible blend of 27 botanical oils (including Argan, Prickly Pear, Jojoba, Evening Primrose and Rose Hip), this oil meets all the needs of dry skin without leaving a greasy film behind. Absolutely addictive (the name says it all!), it works to hydrate, nourish, smooth, regenerate and regulate your skin.   
Finish with an organic face cream that's ideal for your dry skin:
-       La Crème Riche, with Honey, Kiwi and Barley sprout, delivers instant comfort while deeply nourishing your skin. This cream is ideal for skin that's dry, sensitive or reactive, or for when your skin is exposed to harsh climates.  
-       La Crème Beau Jour is a complete anti-aging cream that provides both preventive and corrective action. Formulated with Chaga, Patchouli CBD-like, Hyaluronic Acid, Calcium and Centella asiatica, it helps to protect, energize and regenerate the skin, while providing all the nutrients it needs to function at its best and stay well-balanced.
-       Men will love La Crème de l'Homme, which works to repair and protect the skin while reducing the appearance of fine lines and wrinkles, thanks to Baobab, Hemp and Ginseng.
Before going to bed, indulge your skin with the silky smooth texture of La Crème du Soir. This organic formula is ideal for soothing, smoothing and nourishing dry skin before you enjoy a repairing night's sleep. Enriched with Magnesium, it helps to relax micro-contractions and soothe stressed skin.
    Targeted moisturizers
Finally, if you have dry skin, you're more likely to have fine lines around the eyes and lips. Make sure you use targeted organic moisturizers to help prevent and soften these signs of dehydration. Our Crème Réparatrice Regard contains Hyaluronic Acid and Acmella to smooth eye wrinkles, and Mamaku to help firm this delicate area. One drop is all you need! You can also apply a dab of Le Baume to lips and dry patches, to leave skin feeling nourished for hours and protected against environmental aggressors. Now your unhappy dry skin should feel happy and hydrated!