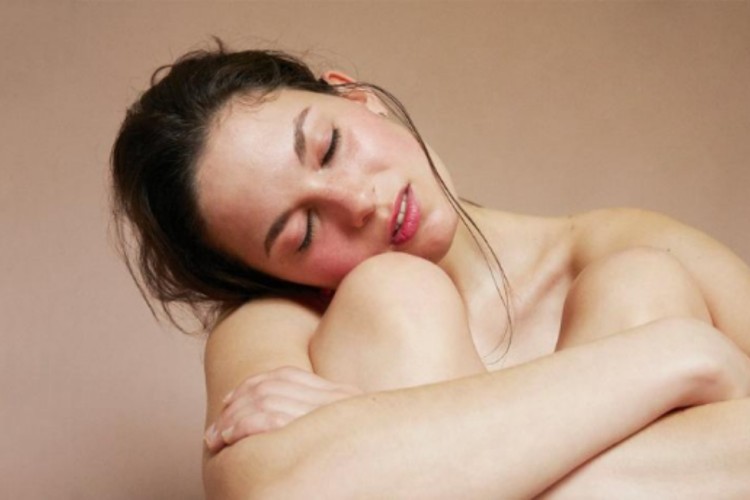 How to nourish your dry skin
Dry skin doesn't produce enough sebum, so it lacks protection. It tends to be fine, pores are barely visible, and the T-zone doesn't shine (or only shines a little) during the day. This skin type can feel tight and uncomfortable, especially after cleansing. Find out more about the best ways to look after dry skin so it stays comfortable all day long, every day, with Absolution.  
The characteristics of dry skin
Because dry skin is finer than combination and oily skin, it's also more fragile. This makes it more prone to premature skin aging, with fine lines and wrinkles often appearing around the eyes and lips from the age of 30. These signs of time passing can be prevented and softened by giving the skin both hydration and nourishment. Dry skin often feels dehydrated, so it not only needs to be nourished, but hydrated too, in order to strengthen its hydrolipidic film.  
Dry skin is rare in adolescents and young adults. At this stage in life, you're more likely to have dehydrated or easily irritated, atopic skin. In fact, dry skin usually occurs later in life, from around the age of 30, at which point it's important to start using specific and targeted skincare products, to give it all the hydration and nourishment it needs.  
Good lifestyle habits will help keep your skin nourished and healthy. It's essential that you look after your skin from the inside out. So it's not just a matter of using the right skincare products, but also trying to tailor your diet to your skin's needs.  
With a little advice from Absolution, you'll be able to restore comfort to dry skin by looking after it from the inside and the outside, and harnessing the benefits of Nature!   


Care for your skin from within
Adopt a skin-friendly diet
Give your body a vitamin boost and enjoy lots of delicious food at the same time! Fruits and vegetables are one of Nature's greatest gifts, and they're also very important for happy, healthy skin. 
If you want to get a healthy glow, look for foods rich in Vitamin A. You'll find it in colorful fruits and vegetables, such as carrots, melons, mangoes and spinach.  
Vitamin C is also important, and will complement the action of your skincare products. You can find it in kiwi fruit, citrus fruits, and beets, for example. This vitamin supports collagen production and promotes microcirculation, for a smoother complexion and plumped, supple skin.  
You'll also want plenty of antioxidants to fight oxidative stress induced by pollution and sun exposure. Red fruits and tomatoes (which are, strictly speaking, a red fruit!) are rich in antioxidants and have a powerful neutralizing effect on free radicals.   
Finally, to boost hydration, eat fruits and vegetables with a high water content, such as cucumbers, which are made up of over 95% water!  
The importance of 
omega
-
3
Oily fish is rich in omega-3 and, more specifically, in docosahexaenoic acid (DHA) and eicosapentaenoic acid (EPA), which play a crucial role in the appearance of the skin. In addition to its beneficial effect on brain development and protecting arteries and the heart, oily fish also helps to strengthen skin cell membranes and improve skin suppleness. Mackerel, sardines in oil, and herring (wild or organic) help to protect against sun damage and skin inflammation, and may also help to slow down the skin-aging process.  
In addition to oily fish, oils, seeds and dry fruits are a good source of omega-3. They're rich in alpha-linolenic acid (ALA), which facilitates the synthesis of the fatty acids we mentioned previously: DHA and EPA. Alpha-linolenic acid, however, cannot be synthesized by the human body, so it's essential that we eat enough sources of it every day. The omega-3 fatty acids found in oils and seeds allow for better oxygenation of cells, and help to give skin a glow. Flaxseed, walnut and rapeseed oils, as well as chia seeds, flax seeds and fresh walnuts, are excellent sources of alpha-linolenic acid, and allow your skin to enjoy the same benefits as those provided by oily fish.  
Care for your skin from the outside
You may be surprised to know that nourishing your skin starts with cleansing. If you have dry skin, it's essential that you use gentle products with nourishing textures, such as oils and lotions, which will remove make-up and cleanse without drying the skin. In this way, you can rid your skin of any toxins that have built up during the day, while providing it with nourishing active ingredients as part of your beauty routine.  
Le Baume Céleste, our oil-in-gel makeup remover, is as gentle on your skin as it is on your mind. In a single step, it gently removes all traces of pollution on your skin. Rich in Blue Tansy, Coconut Oil and Chaulmoogra Oil, it both cleanses and removes makeup, to leave skin clean, clear and calm.  
This product couldn't be easier to use! Warm a small amount between your hands, massage over the face and eyes (you could even leave it on for a few minutes and meditate!), then rinse off with clean water. Le Baume Céleste transforms into a milky lotion that removes all makeup, even waterproof.  
Nourish with lipids

Once you've cleansed your skin, it's ready for the next products in your routine. Dry skin is often dehydrated, so it's important to use products that are able to both nourish and hydrate. For combination and oily skin, we usually recommend a minimalist skincare routine, but if you have dry skin, you can apply several products to fully meet its needs.   
Morning and evening, apply a small amount of La Crème Riche to your clean face. Formulated with Honey, Malt Secrets™ and Kiwi, this nourishing face cream delivers absolute comfort, and helps to plump dry and mature skin.  
Complete your routine with the Addiction facial oil. This blend of 27 organic essential oils and botanical oils works to nourish, smooth, regenerate and regulate the skin. You can use it on its own or mix it with your cream, day and/or night, all year round.  
Finally, protect your lips and any particularly dry areas on your face with Le Baume. Enriched with Perilla, Marula and Calendula oils, with nourishing, antioxidant and healing properties, Le Baume can be applied as often as you wish to lips, cheeks, and even the tip of your nose, to protect skin against environmental aggressors. It's excellent for the winter, when your skin has to deal with the cold, the wind and bad weather, but also in summer, after sun exposure.  
Always have a product 
on standby
, ready
 to rescue your skin
There will be days when nothing seems to calm your dry skin, and you'll need an SOS product to come to the rescue! For days like this, we developed an intensely nourishing and hydrating face mask: Le Masque Velours Repulpant. Rich in Snow Mushroom (10 times more potent than Hyaluronic Acid), Alfalfa (to restore density), and Beech Bud (to increase oxygenation of cells), it works to redensify the skin and give it a boost, so it can cope with everything the outside world throws at it! You can leave it on for 10 minutes or, if your skin craves comfort, keep it on overnight.  
All Absolution skincare products are free of controversial ingredients and are certified organic, so they care for your skin without harming your health or the planet. Discover all our skincare products and reveal your natural beauty.