How to remove redness from the face?
Many factors can cause redness that can be uncomfortable and lead to a complex. Absolution helps you to determine the cause to relieve your skin and limit the risk of future irritations.
Redness on the face: how to identify it?
In order to know how to reduce redness on the face, it is first necessary to determine what type of redness it is. This is because the solutions will vary depending on the characteristics of the redness. Here are the most common ones:
Rosacea: its most common symptoms are hot flashes on the face, red "bumps", permanent or occasional red spots, and dry, sensitive skin.
Eczema (or atopic dermatitis): it can look like a superficial burn, but it manifests itself mainly as irritated, red, squamous or raw skin and blisters that ooze and crust over.
Contact dermatitis: This is recognised by a rash with well-defined edges that appears where the skin has been in contact with the irritant substance. Contact dermatitis is characterized by irritated, red skin, thickening of the skin, cracking and scaling.
Acne: Acne pimples can cause red patches to appear on the face.
Skin hypersensitivity: without any associated pathology, your skin may simply be red on the face because it is sensitive to irritation, being too dry or too dehydrated. This results in red or pink areas on the face, dry or even squamous skin.
Redness on the face: what causes it?
Once you have determined what type of redness you have on your face, it is essential to know what causes it in order to know how to reduce it naturally.
Rosacea: Scientists have not yet determined the cause, it may be a combination of hereditary and environmental factors. Some factors make its symptoms worse, including eating spicy foods or foods that contain the compound cinnamaldehyde, such as cinnamon, chocolate, tomatoes and citrus fruits. Rosacea symptoms can also be made worse by drinking hot coffee or tea, the presence of the intestinal bacteria Helicobacter pylori or a skin mite called demodex and the bacteria it carries, Bacillus oleronius.
Atopic eczema: this is a chronic inflammatory skin disease, which can be explained by genetic predisposition, but also by an alteration of the epidermal barrier. The skin is drier, less protective, and a vicious circle is set in motion, as it is more fragile and sensitive to environmental aggressions, which aggravates the eczema...
Contact dermatitis: this is caused by an allergy to a product that has touched your face. Some beauty products sometimes contain ingredients that cause allergies or hives, especially chemical or synthetic compounds. This is why Isabelle Carron, the founder of Absolution, makes sure that her cosmetics are composed of 99.9% natural ingredients, at least 50% of which are organic, to respect and restore your skin's ecosystem.
Acne: beyond the hormonal causes of acne, this inflammation of the skin can be the consequence of a skin that has an excess of sebum and becomes a breeding ground for pathogenic bacteria.
Hypersensitive skin: the cause of redness may be excessive dryness or dehydration of the skin - dry skin and dehydrated skin are not the same and do not require the same anti-redness care.
How to reduce redness of the face?
Depending on the cause of the inflammation, the remedies to soothe or even get rid of the redness on the face will be different. If it is an irritation being the consequence of a pathology or an allergy, the only solution will be to consult a dermatologist to set up an adapted treatment. On the other hand, for other types of irritation, Absolution gives you some advice on how to reduce redness on the face naturally, based on the benefits of plants:
Le Booster PROTECTION: with Thermus Thermophilus, Echinacea and Edelweiss, this serum protects your skin from the inside by stimulating its natural immunity, and from the outside by creating a natural barrier to prevent redness and overheating of the skin.
Le Masque Velours Repulpant : containing Snow Helleborine, Alfalfa and Beech Buds, this mask moisturises and soothes the skin. As it is not greasy, it can be used as often as your skin needs it.
La Crème Riche : this nourishing and soothing product is ideal for skin that suffers from redness and irritation. Its benefits are due to Honey, Kiwi, Barley and Calendula.
For a complete routine, discover our anti-redness treatments or carry out our skin diagnosis online!
Do you suffer from eczema, itching, or dry, easily irritated, atopic skin? When it comes to your hands, they need special treatment! Read our advice on how to soothe your hands and give them...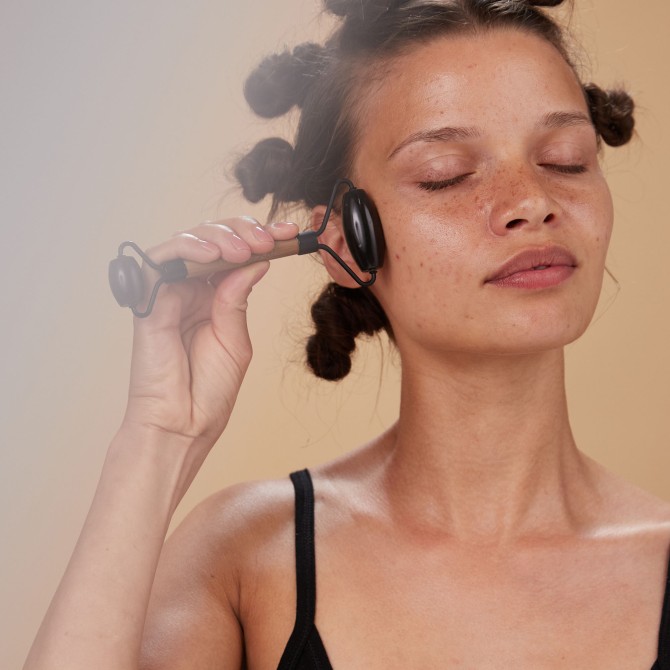 Learn about the benefits of facial lymphatic drainage to brighten your complexion and bring out your skin's natural beauty!
Sensitive skin: how to soothe and care for it every day.