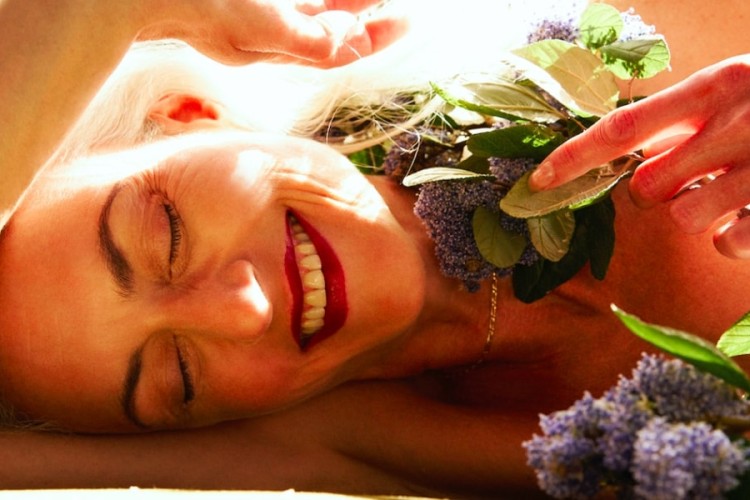 Learn how to firm facial contours with certified-organic, targeted skincare products and a few good techniques!

How can you firm facial contours and fight the force of gravity? As we get older, our skin starts to sag, creases form, and wrinkles become more pronounced. While these days we may tend to look more kindly on the first signs of aging, cellular aging can be responsible for many changes in the skin. Over the years, your skin loses firmness, hydration and elasticity. With a little help from Absolution, learn about techniques that help to fight the effects of gravity and products that help to firm facial contours, packed with carefully selected pro-aging ingredients.


Facial contours: vulnerable to the effects of passing time

Facial contours, including the jawline, are particularly sensitive to the effects of aging. Over the years, these contours lose their definition, tissues start to sag, and the signs of aging appear. If you look at younger women, you'll see that their face is shaped like an upside-down triangle, with the base of the triangle represented by the cheekbones or even the eyebrows, and the point of the triangle at the chin. But as gravity takes its toll and the skin starts to sag, this "triangle of youth" becomes inverted. 

Many factors, both internal and external, can cause the face to sag. It's important to bear in mind that cellular aging is a natural process that involves the degeneration of skin cells, and the explanation behind this is very simple. Over time, the number of fibroblast cells diminishes, making it difficult for them to produce collagen and elastin – two elements that are essential for firm, toned skin. This drop in production has an impact on the skin's "bounce," and it becomes harder for skin tissues – with their lower levels of collagen and elastin – to regenerate completely. The first wrinkles appear, and the complexion suffers too (lack of radiance, irregularities, dark spots, etc.).

It's also worth noting the effect of urban pollution on premature skin aging. Carbon monoxide, the combustion of hydrocarbons, and heavy metals in the atmosphere can promote the formation of free radicals in the body. These unstable molecules damage skin cells and are one of the main factors responsible for sagging of the face from the age of 40.


Products and techniques to fight the effects of gravity

To help limit the effects of aging, fight the effects of gravity, and visibly redefine facial contours, Absolution has developed skincare products made with extremely talented pro-aging active ingredients! They may not promise eternal youth, but they should enable you to meet achievable objectives, with a little help from nature. What's more, when these products are combined with facial exercises that relax even the most tense facial muscles, their benefits will be dramatically enhanced! 
A firming serum

If you're looking for a serum with superpowers, this is it! Le Booster LIFT can be used every day to firm, rehydrate and smooth your skin. Made with a blend of pro-aging active ingredients that were carefully selected for their firming and redensifying properties, this deep-acting formula is just as effective on fine lines as it is on more pronounced wrinkles. 

Among its active ingredients, you'll find Resurrection Plant, which hydrates and helps to stabilize the epidermal lipid barrier, Oat with an instant skin-tightening effect, Horsetail with firming properties, and Calcium – ideal for stimulating the production of hyaluronic acid and elastin.

You can use Le Booster LIFT alone, for intensive, targeted action, or before your usual face cream. You could also mix it with your Absolution day and/or night cream, to boost its anti-gravity effect on your skin!

Find out more about Mix & Match


A redensifying mask

It hydrates, restores density and smoothes. Le Masque Velours Repulpant replenishes your skin with active ingredients that help to keep it looking and feeling young. This multi-purpose formula can be used in different ways: as a super-quick, 10-minute mask, as a night mask, or even as an eye mask – without irritating the eyes! Plus, it's suitable for all skin types, including the most sensitive.

Rich in natural pro-aging active ingredients, it meets the needs of older skin by helping to prevent the signs of aging, such as wrinkles and fine lines, dryness and sensitivity, a lack of radiance and firmness, feelings of tightness, etc.

Like a boost of youth, it plumps and smoothes the face, so your skin immediately feels firmer. The secret behind the effectiveness of this product is a blend of 17 natural and organic active ingredients that are able to act directly on skin cells. And at the heart of its formula lies Snow Mushroom – a rare and powerful active ingredient that's 10 times more potent than Hyaluronic Acid!

With its subtle scent and comforting texture, it's a must-have certified-organic skincare product for anyone who wants to firm facial contours! Use once a week or as often as your skin needs it.


A cream to put time on hold

La Crème du Temps is an exclusive blend that works to firm, smooth out and repair the skin. Every day, this silky smooth cream acts as a protective shield, working to combat wrinkles and fine lines, and boost cell renewal. The formula is rich in antioxidant ingredients (Atlantic Wakame and Pomegranate Seed Oil), which help to maintain suppleness and elasticity, regenerate the skin, prevent free radicals from penetrating, and deliver the hydration your skin needs. As a resullt, the skin's natural moisture levels are maintained – which improves its suppleness and defenses against environmental aggressors. 

La Crème du Temps also contains Alpine Edelweiss, which can be very effective on sagging skin, particularly around the neck and eyes. Poet's Narcissus helps to prevent dark spots and reduce melanin synthesis, while Ginseng is able to stimulate collagen production.


An anti-gravity technique

While pro-aging active ingredients may be essential to redefine facial contours, you can also use techniques that help to stimulate microcirculation and smooth out the face. We recommend performing the technique below after applying your daily face cream or a face oil, such as Addiction. This will give your skin all the nutrients it needs to help restore its elasticity, while also making your facial exercises as gentle as possible for your skin. 

Begin by applying your product (face cream or oil) by smoothing it over the face with gentle upward movements. Work outward from the center of the face on the forehead, cheeks and chin. Don't forget your neck!

Next, to boost microcirculation and invigorate the skin, perform small pinching movements with the thumb and index finger, working outward over key areas – the jawbone, cheeks and cheekbones – and going as far as the ears.

To visibly sculpt facial contours, don't forget you could also use your Gua Sha tool! Made from Rose Quartz, it's ideal for giving a firming massage that can make the face look younger. Just a few precise movements are all it takes to gently stimulate meridians and improve blood circulation. You may even feel the benefits on the body, as each part of the face you work on is said to be linked to an organ. Another good reason to try it!

There are plenty of natural ways to firm facial contours, without resorting to surgery!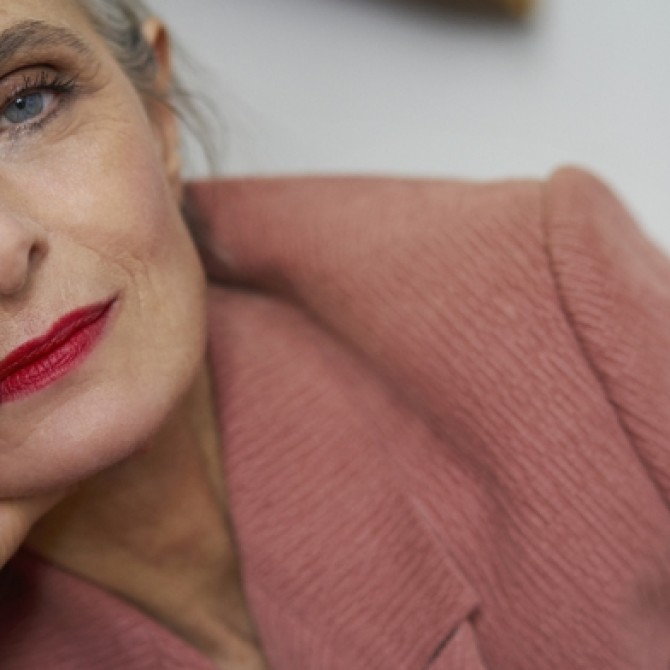 From the age of 60, your mature skin has specific needs. Provide an effective response with a natural beauty ritual and organic pro-aging skincare from Absolution.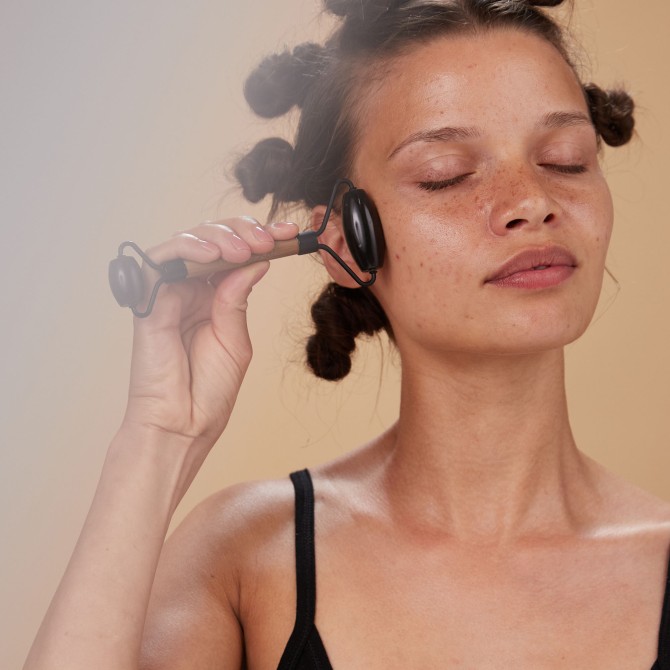 Learn about the benefits of facial lymphatic drainage to brighten your complexion and bring out your skin's natural beauty!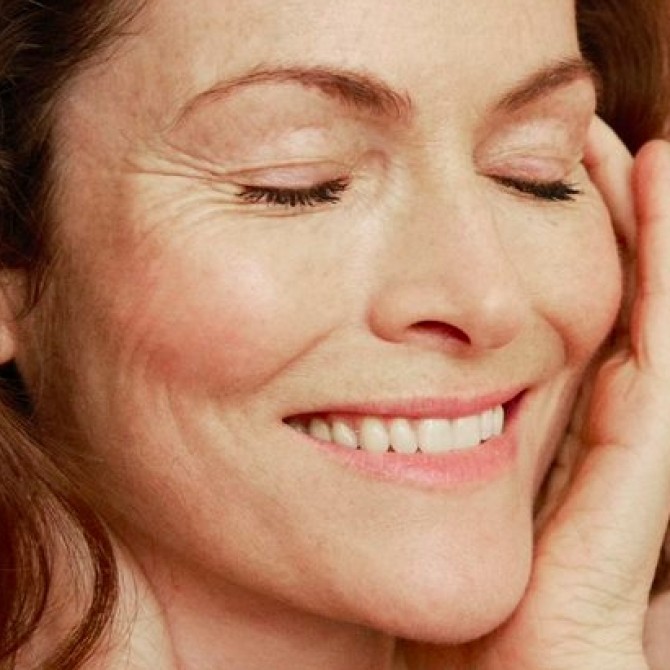 Are you looking for a really effective, organic pro-aging skincare product? Absolution helps you to choose the best natural active ingredients to fight the effects of time.