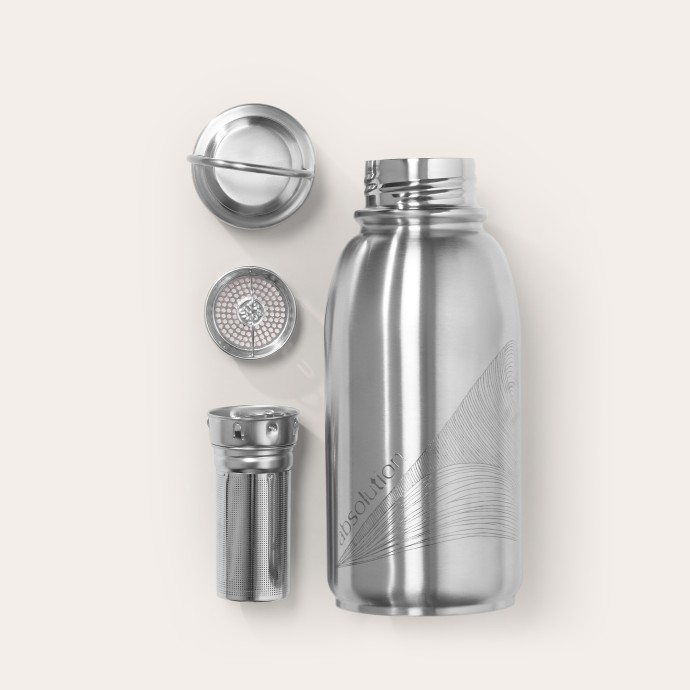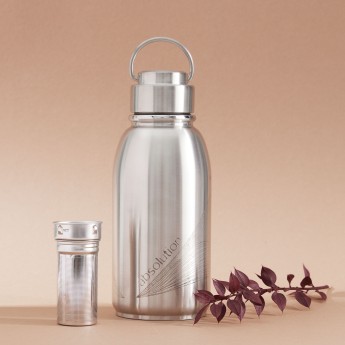 4.9
7 reviews
La Gourde Absolution x Gaspajoe
Stainless steel insulated water bottle
Timeless and durable insulated bottle to stay chic and hydrated wherever you go! 
See more
Ingredient list
Bottle: isothermal and stainless steel
Infuser: stainless steel
Box: cardboard
La Gourde Absolution
0%
PEGs, PHTALATES, MINERAL OILS, GMOs, AND SYNTHETIC FRAGRANCES.
La Gourde keeps beverages warm for 12 hours and cold for 18 hours.
After each use, rinse the bootle with hot water and a bit of gentle dish soap, and clean the neck thoroughly as this is where bacteria build up. 
Once a month, fill it up with boiling water and a spoon of sodium percarbonate to deep cleanse it. Let sit for a few hours, then rinse with water and dish soap.
How to take care of my bottle ?
After each use, rinse your bottle with a little hot water and a mild dishwashing liquid, especially on the neck where bacteria settle. Once a month, fill it with very hot water and a tablespoon of sodium percarbonate to clean it thoroughly. Leave for a few hours and then rinse with hot water and dishwashing liquid.
Is the infuser provided with the bottle?
Yes, each Absolution x Gaspajoe bottle comes with a stainless steel infuser, ideal for preparing tea, infusions or flavored waters.
Why isn't the Gaspajoe bottle made in France?
When we started sourcing La Gourde, our wish was to offer you a 100% French product. However, a choice was quickly made: to propose a classic stainless steel bottle made in France, or an isothermal bottle (more versatile and usable all year round) but whose production is not possible in Europe for the moment. This is because the materials that make up the isothermal part can only be found in Asia.
The average score of La Gourde Absolution x Gaspajoe is 4.9 out of 5 after the 7 experience feedbacks gathered from our clients.
For each review, you will collect 20 points, which can be converted into a €1.40 voucher!
Glowing skin starts with proper hydration, but being on-the-go doesn't always make it easy. Not a fan of plastic bottles? We get it! They are expensive, polluting and require more water than they can contain to be produced, so it's a no from us. If you're looking to stay hydrated and take care of the environment at the same time, La Gourde will be you best friend! 
La Gourde Absolution is made with stainless steel and is isothermal so you can keep your hot beverages in the winter, and enjoy fresh infused water in the summer. As for the design, we opted for a laser printing that doesn't require any paint or plastic, and is much more long-lasting and robust. 
La Gourde can contain up to 25 fl. oz. and covers almost half of your daily needs, all while preventing thousands of plastic bottles from going to waste. 
Dimensions:
Height: 26 cm/ 10 inches
Width: 8 cm/ 3 inches
Empty weight: 12,6 oz
Tea lover? Good news, it comes with a stainless steel infuser, ideal to prepare a tea, a herbal infusion or a cold infused water.
Shared values
La Gourde was created in collaboration with Gaspajoe, a French brand committed to reducing plastic waste since 2010.
Valérie Mercier, founder of Gaspajoe, started the brand with a simple bottle, yet a strong dream: reducing global plastic waste at the root. Water is where it all starts. 
Transparency
When we started sourcing La Gourde, our wish was to offer a 100% French bottle. Along the way, we realized we had to choose between a simple stainless steel bottle, made in France, or an isothermal bottle (that you can use all year-round), made in China, because the material used to insulate the bottle isn't available in Europe, nor are the factories. 
La Gourde Absolution x Gaspajoe is made in China, in the most responsible and transparent way - and yes, it is possible. Gaspajoe works hand in hand with a factory that has high standards of quality, expertise, and complies with the rules of international labour rights. The bottles are then laser printed in France, in Gaspajoe's workshop. The shipping is made by boat, which is the least polluting way of delivery to date.
Complete your ritual with
Le BeauTea Set
A little box filled with magic to treat your skin and your body for the festive season! Discover Le BeauTea Anti-Soif Harmonisant, our harmonizing herbal tea.