What products are best for redness-prone, sensitive skin?
If you're looking for products that alleviate redness and are also ideal for sensitive skin, the first thing you need to do is work out what's causing the redness and sensitivity. Otherwise, you could end up using the wrong products and actually make matters worse… Absolution helps you to understand what's happening to your skin, so you can make it feel calm and serene again!
Why is sensitive skin prone to redness?
In order to reduce facial redness, you need to understand the causes. There are two main types of redness:
Persistent, chronic redness
This kind of redness is called "rosacea," and it can be aggravated or triggered by the hot flashes we tend to experience more often as we get older. Rosacea may also be accompanied by small red bumps on some parts of the face. These eventually go away, leaving behind red or pink patches. In order to determine whether you have rosacea or if it's just temporary redness, look at where exactly your skin is irritated and red. In the case of rosacea, red areas are typically found across the cheeks and nose, in a butterfly pattern, with tiny blood vessels appearing on the surface of the skin. Most people who suffer from rosacea experience flare-ups, when small inflammatory bumps appear. These bumps may look very similar to pimples, but shouldn't be confused with acne.
Temporary and reactive redness
This kind of redness is usually caused by sunburn, irritation from using an unsuitable cosmetic product, or dehydrated skin. It's often accompanied by itching and discomfort, and disappears once the cause has been eliminated.
How should you treat sensitive, redness-prone skin?
If you have rosacea, it's essential that you see a dermatologist, as only they can tell you the most effective way to tackle the problem. Many creams for sensitive skin help to combat redness, but are only effective on temporary and reactive redness. They will not be effective on inflammation caused by a skin condition, as this requires medical intervention. Reactive and temporary redness may be caused by:
Applying a product that contains an allergenic ingredient. This may often happen with makeup or skincare products made with chemical or synthetic ingredients, which can be overly harsh on the skin.   
For this reason, Isabelle Carron, founder of Absolution, decided to focus on using plant-derived active ingredients, rather than synthetic ones.
Sunburn caused by overexposure to the sun or artificial UV radiation (tanning beds or booths).
A reaction to medication. If this happens, ask your doctor if it's possible to switch to an equivalent treatment that won't make your sensitive skin go red.
Sensitive skin (dry or dehydrated), in which case you should use a cream designed for sensitive skin that also helps to treat redness. 
Which products should you be using on your sensitive, redness-prone skin?
Absolution has developed several skincare products that are suitable for sensitive skin, reduce the risk of redness, and also hydrate, soothe, and protect.
L'Eau Soir et Matin, ideal for even the most sensitive skin, removes makeup, tones and cleanses. It's rich in Helichrysum and Lemon Balm hydrosols, and enriched with Potassium, which promotes intercellular exchanges.   

Le Sérum Anti-Soif contains Aloe Vera, Alpine Skullcap and Elderberry Flower to deeply hydrate and soothe the skin. However, it is not recommended for those who suffer from rosacea as it contains Peppermint essential oil.

Le Masque Velours Repulpant drenches skin in moisture and envelops it in softness. Formulated with Snow Mushroom (also known as Silver Ear), Alfalfa, and Beech Bud, you simply leave it on for 15 minutes, remove it, then apply your anti-redness cream. You could also leave it on overnight, instead of your night cream, once or twice a week. 

La Crème Réparatrice Regard is a firming and nourishing eye cream that will help prevent redness below the eyes. Lightly pat onto the skin, working out from the inner corner of the eye. 

La Crème Riche is perfect for dry, sensitive and reactive skin. It acts as a soothing balm for suffering skin while also providing protection against environmental aggressors.  
Contrary to popular belief, oils are perfectly compatible with oily skin, as long as you make the right choices! Find out how to choose the most appropriate botanical oils to regulate and care...
Sensitive skin: how to soothe and care for it every day.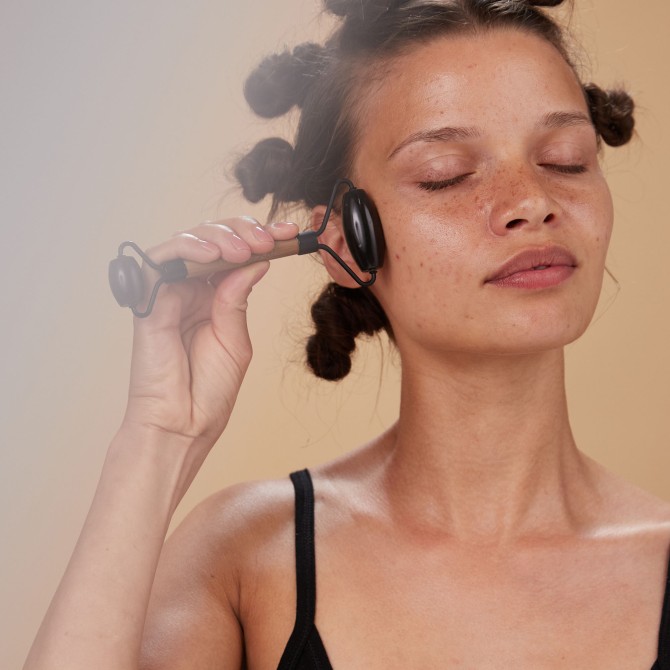 Learn about the benefits of facial lymphatic drainage to brighten your complexion and bring out your skin's natural beauty!