Turmeric mask to fight blackheads
Turmeric is a plant native to Asia. Often used in cooking, this spice is also an excellent food supplement for its antioxidant and anti-inflammatory properties. Externally, the turmeric face mask can help solve certain skin problems. However, it is important to know how to prepare it and the precautions to take.
Turmeric mask for blackheads: does it work?
Blackheads are, in medical terms, "open comedones". They are nothing more or less than clogged pores. Each pore in our epidermis contains a hair follicle and a sebaceous gland that secretes the sebum that is essential for the hydrolipidic film of our skin. However, under the influence of various factors, the pores can become blocked and create blackheads. These appear most often on the face, and particularly in the T-zone, which runs from the chin to the forehead via the nose. The factors that favour the appearance of blackheads are :
Excess sebum
Hormonal acne, caused by a high level of androgens in the blood, which, as a domino effect, increases the secretion of sebum and thus the risk of obstruction of the pores.
The accumulation of impurities on the skin (and/or their improper removal), which clogs the pores and encourages the appearance of blackheads.
Periods of hormonal imbalance, such as puberty, pregnancy, or menstruation.
Some medicines, in particular contraceptive pills or pregestational IUDs, but also corticosteroids and lithium-based treatments.
How can a turmeric mask help remove them? This spice has many properties for the skin:
Turmeric is anti-inflammatory and antibacterial: it prevents and treats excess bacteria on the skin that can lead to blackheads. Turmeric is also effective against inflammatory acne, which can lead to cysts, nodules, pustules and papules. It also helps to improve the appearance of acne scars.
Turmeric is rich in antioxidants, which prevent free radicals from destroying healthy cells. Thus this spice can prevent the appearance of hyperpigmentation, especially for black and mixed skins, scars and other long-term skin problems.
Turmeric mask for blackheads and acne: the recipe
Making a turmeric mask for blackheads at home is very simple:
In a bowl, mix 1 teaspoon of turmeric powder and 1 teaspoon of organic honey.
Gradually add half a pot of plain yoghurt, preferably organic, and mix well.
Apply to the area of the face where you have noticed blackheads.
Leave the mask on for about 10 minutes.
Rinse thoroughly with warm water and then apply the serum or moisturiser that suits your skin.
Do not leave it on for too long, as turmeric tends to tint the skin (especially if you have very fair skin).It is also advisable to test on your a small amount on your skin before using the turmeric and honey mask, as this is a spice and allergic reactions can occur.  Prepare a small amount of your turmeric brightening mask and apply a small amount to your arm. If you want to use turmeric oil on your face, do the same test. If after one day there is no inflammation or irritation, you can use the turmeric mask recipe on your face without worrying. However, if redness, swelling or irritations appears, you may want to use another type of blackhead treatment, such as a green tea mask or our Masque Pureté Détoxifiant with Maté, Birch sap and White Clay.
Blackheads and blemishes: other tips for removing them
For those who do not have the patience to make their own beauty products at home, but who wish to take advantage of the active principles of plants, Isabelle Carron, the founder of Absolution, has developed a skincare routine against blackheads, with products containing more than 99% of ingredients of natural origin and more than 50% of certified organic ingredients, to enjoy all the benefits of nature:
L'Essence Botanique PURETÉ, composed of Hemp oil, Burdock Root and Myrtle, helps moisturise the epidermis, cleanses and contributes to the balance of difficult skin, in particular by regulating sebum production.
La Crème de Santé, an absolute bestseller and a great friend of fussy skin, thanks to its composition rich in healing honey and prebiotics that promote the balance of the skin's microbiota, the guarantor of good skin health!
Le Nettoyant Pureté, for the most important step in a good skincare routine: cleansing. Use every night with the Konjac sponge for a gentle but thorough cleansing.
You have blackheads and you want to get rid of them? Absolution gives you all the tips you need to get rid of them with a green tea mask!
Contrary to popular belief, oils are perfectly compatible with oily skin, as long as you make the right choices! Find out how to choose the most appropriate botanical oils to regulate and care...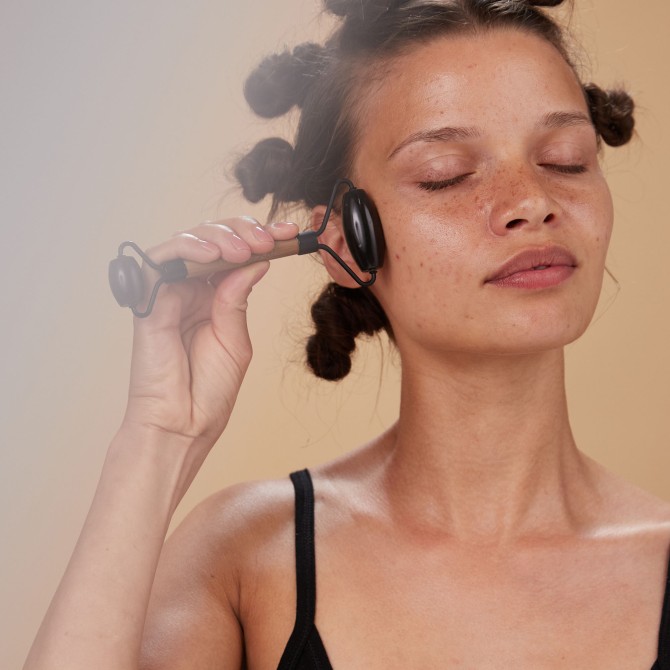 Learn about the benefits of facial lymphatic drainage to brighten your complexion and bring out your skin's natural beauty!