The complete routine for radiant skin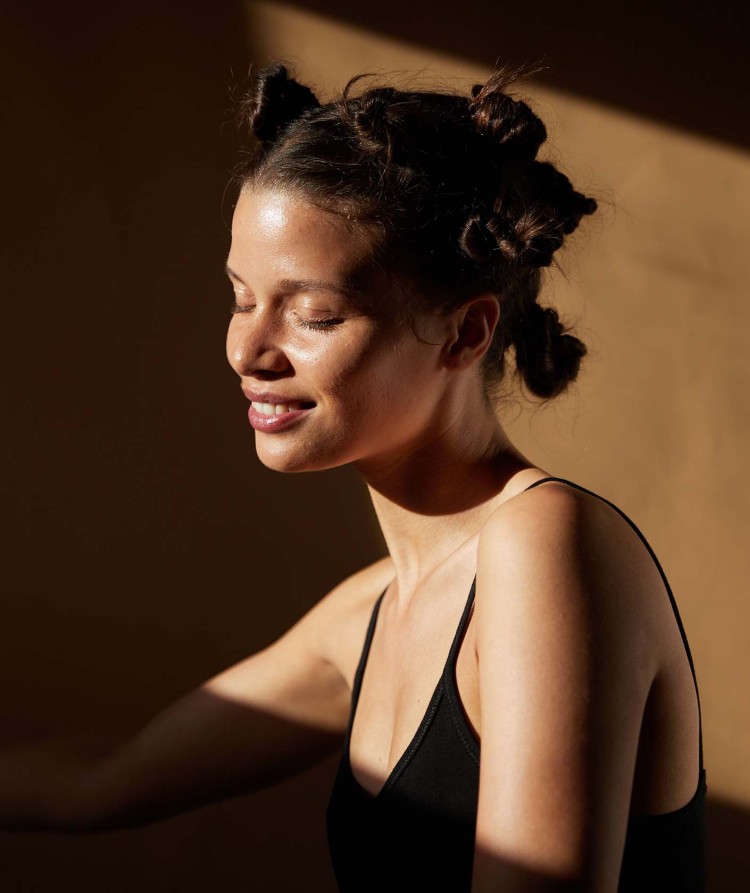 Why is your skin dull?
There are many reasons why your skin might be dull, and these include pollution, smoking, stress, and lack of sleep. All these factors, along with lifestyle habits, can take a toll on the skin of your face and impact its radiance. An unbalanced diet and a lack of physical exercise can also play a part in dulling your skin.
How can you get your glow back?
Double cleanse, to purify your skin
Not only does double cleansing rid your skin of impurities; it also oxygenates cells and encourages cell renewal. In case you're not already familiar with this technique, it consists of using an oil-based makeup remover followed by a water-based cleanser to cleanse your skin both gently and deeply.
Begin with a makeup remover that suits your skin. La Crème Douce Démaquillante is perfect for dry and mature skin types, while Le Baume Céleste is ideal for anyone with blemish-prone or irritated skin. Alternatively, if you prefer to use micellar waters, you could opt for L'Eau Soir et Matin. For the second step in your double cleansing routine, put your trust in Le Nettoyant Pureté – a sulfate-free, purifying cleansing gel that's suitable for all skin types, even the most delicate.
Exfoliate to restore luminosity
La Crème Gommante will help to get rid of those skin-dulling dead cells lingering on your face! Designed to boost radiance and fight blemishes, this face scrub also leaves your skin more absorbent and receptive to the products applied next.
Nourish your skin so it glows from within
When your skin is well moisturized, it catches the light better. If you want a radiant skin routine that starts when you get up and finishes when you go to bed, try our Mix & Match solutions. In the morning, combine our Le Booster ÉCLAT serum with La Crème Beau Jour face cream.
In the evening, mix Le Booster SUPERFOOD with La Crème du Soir to help regenerate your skin while you sleep, so it feels plumped and rested when you wake up. As for your eyes, look no further than Le Soin Regard. This impressive formula works to brighten and hydrate the eye area, while reducing puffiness and dark circles.
Do you need a new tailored routine? Or simply want to make sure you are using the right skincare?
Our skin quiz only takes 3 minutes!
When your skin lacks oil, it feels tight and can lose its radiance. Take a few tips from Absolution so you can enjoy luminous, visibly moisturized skin!
Looking for a routine to revive dull, lackluster skin? Whatever your skin type, Absolution's certified-organic skincare products will leave your complexion looking bright and beautiful again!
What kind of exfoliant is best for your skin?