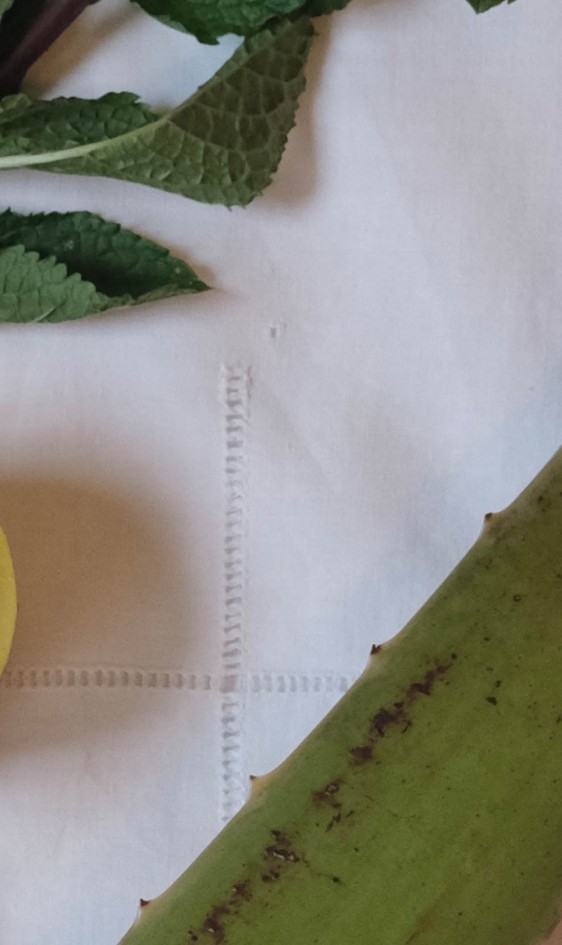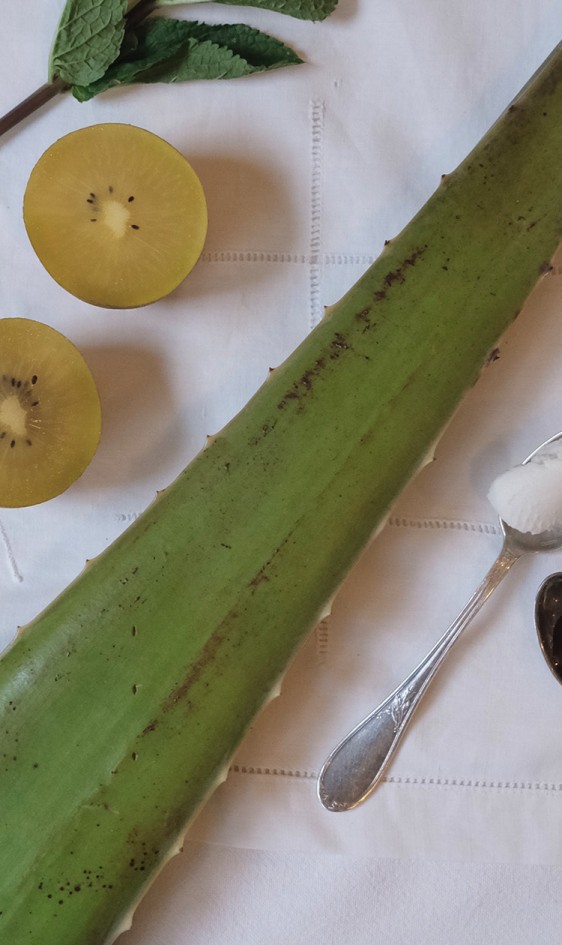 Kaitlyn Reinhart
« Cooking should be easy, plain, colorful and filled with our garden's wonders »
About Kaitlyn
Following the rhythm of the seasons, gently listening to your own tempo, taking your own path... Kaitlyn Reinhart's cooking embodies her philosophy of life. A self-taught chef of Canadian origin, she first imagined a range of cold-pressed juices with a subtle balance that would soon give rise to Otium, a juice bar and vegetarian café in the heart of the 9th arrondissement of Paris. Kneading, fermenting, roasting, simmering: here Kaitlyn gives shape to what will constitute the essence of her cuisine. Vegetal and natural, alive above all. The Italian slow life, the smells of the South of France, the colour of a harvest, a musical tone or the texture of a painting, Kaitlyn's culinary universe is fed by multiple influences. At once gourmet, aesthetic, authentic and delicate. Today, after having collaborated with renowned brands, Kaitlyn is developing her activity as an independent chef in order to share her passion for a cuisine that is conscious and rich in meaning. Kaitlyn Reinhart lives and works in Paris and is represented by the agency La Relève.
Steps:
1/ Soak the beans overnight.
2/ Cook them with a crushed garlic clove in boiling water until tender but not mushy (about 20 minutes).
3/ For the stock, cut the onion in half (leaving the skin on), cut the celery, carrot and ginger into large pieces and add to a pot.
4/ Caramelize everything, then add 1.5 litres of water, the lemongrass and the kombu.
5/ Bring to a boil then simmer for 1h30.
6/ Strain your stock.
7/In a saucepan, add your stock and the roughly chopped squash, cook for 10-15 minutes until tender.
8/ At the last minute, add your kale and the cooked beans.
9/ In a bowl, add 1 teaspoon of miso and a little stock, stir until incorporated.
10/ Add the rest of the soup, garnish with fresh herbs, a dash of good olive oil and a pinch of salt.
The benefits of lemongrass
Lemongrass offers many benefits for your skin as well as for your body. This lemon scented herb boasts anti-inflammatory and anti-bacterial properties and can help treat acne and blemishes. Its astringent properties purify and tighten pores as well as enhance skin elasticity, therefore acting as a pro-aging treatment. When consumed, lemongrass can relieve the pain and boost your immunity. It also helps to improve digestion and detoxify your body. Finally, lemongrass is known for its calming properties, both when ingested and inhaled. It is highly recommended to consume lemongrass when you are dealing with anxiety.
Steps:
1/ Moisten your dry sea spaghetti for 30 min in water at room temperature (skip this step if you are using fresh seaweed).
2/ Chop the onion and put it in a saucepan with the garlic, fry it until it is golden.
3/ Cut the cauliflower into large pieces and put it in the pan with a teaspoon of salt. Add a cup of water, cover and steam until tender.
4/ Add the lemon juice and blend in a blender until smooth.
5/ Cook the sea spaghetti for 9-10 minutes in boiling salted water (no need to salt if using fresh seaweed) until tender.
6/ Keep some of the cooking water aside (about 10cl).
7/ Mix the seaweed and cauliflower purée together and add a little of the broth if necessary.
8/ Taste and adjust the seasoning if necessary, then garnish with lemon zest, olive oil and za'atar.
The benefits of algae
Algae is a wonderful ingredient and has been used as a natural skincare product for years. It offers many benefits, both inside and out. Although benefits and their effectiveness may vary on the type of algae you use, some benefits are universal to most algae species. Algae boasts moisturizing and brightening properties, which helps revitalise the skin. It is also rich in antioxidants, making it an excellent pro-aging treatment. Most importantly, algae is a powerful detoxifying ingredient, both for the skin and for the body. It is therefore greatly recommended if you suffer from acne and blemishes. On the other hand, when consumed, algae will help flush out toxins and heavy metals from your body, and detoxify your liver. It can also offer pain relief, as well as boost your immune system.
Steps:
1/ Remove the skin from your aloe vera and peel your kiwi.
2/ Rinse the aloe vera to remove the slimy residue.
3/ Add all the remaining ingredients to a blender and blend until smooth.
4/ Pour into your container.
5/ To garnish, garnish with a few remaining pieces of kiwi and the few mint leaves.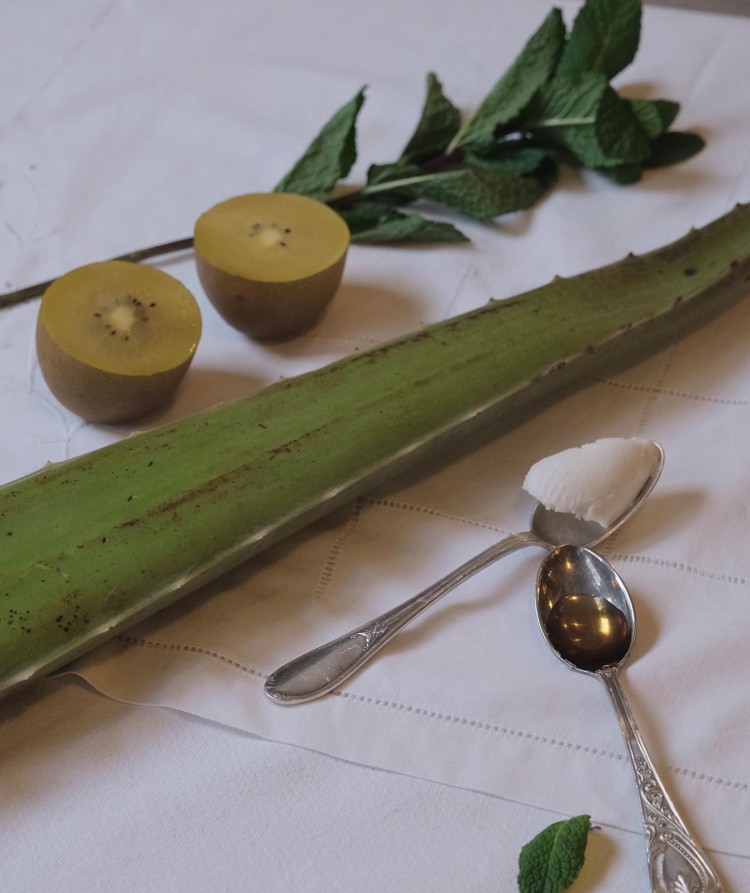 The benefits of aloe vera
Aloe Vera is widely renowned for its healing power when it comes to burns or sunburns, but its anti-inflammatory and anti-bacterial properties are also very helpful to fight acne and blemishes. It can also be used to soothe irritated skin thanks to its deeply moisturizing properties. If you use essential oils, aloe vera will be a formidable base. Because it is able to lock moisture and is very rich in vitamins, aloe vera is a powerful antioxidant, therefore a true pro-aging ingredient. When consumed, aloe vera promotes a healthy digestion, lowers sugar levels and boosts the immune system.
Aloe vera in our skincare products