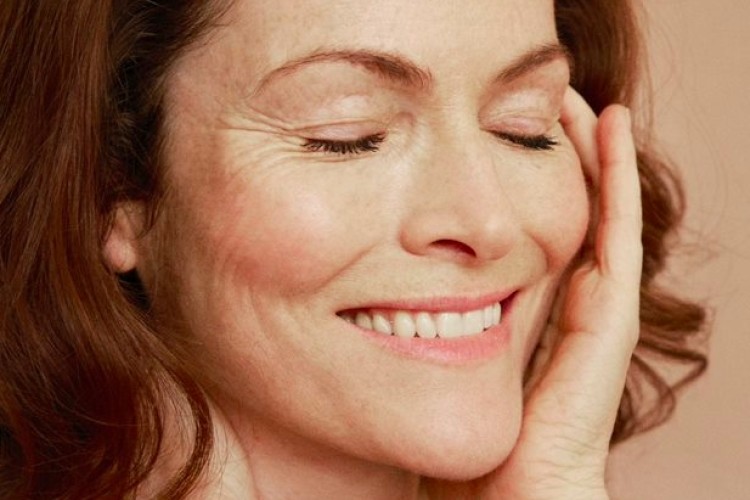 Anti-aging skincare: how do you choose the most effective products?
At Absolution, we don't talk about anti-aging products. We prefer to talk about pro-aging skincare! We know how difficult it is to choose a skincare product when there are so many creams and serums out there designed to meet the needs of your changing skin. How can you be sure that they really work? What concerns should they address? Which active ingredients are best for preventing or correcting the effects of time on the skin? We're here to help you keep your skin in good health, whether it's young...or not so young!
IDENTIFYING THE SIGNS OF SKIN AGING 
As you get older, physiological changes occur naturally in your skin.
       Over time, the number of fibroblasts decreases. These support cells are found in the dermis, and help to ensure its cohesion and suppleness. The skin's ability to regenerate gradually diminishes. It loses firmness and elasticity, and starts to sag. Small wrinkles and fine lines appear.
       Blood circulation slows down. As a result, less oxygen is delivered to the skin and it looks paler. Its ability to heal is also impaired… and suddenly it becomes more lined, more easily!  
       Sebaceous and sudoriferous glands – which produce sebum and sweat, and are essential for the skin to function properly – become less active. Consequently, the skin becomes drier, more dehydrated, more lined and less supple.
THE SKIN'S PRO-AGING NEEDS
As the years go by, these physiological changes accelerate. Your skin's needs evolve throughout your lifetime and as you get older. So, it's important to adapt your skincare as soon as you feel your skin is not the same as before. From the age of 30, there's already less collagen in the dermis and a slight loss of elasticity. The skin loses radiance, becomes tired, and environmental aggressors take a greater toll. This is when the first expression lines appear. At this point, you need a skincare product that will keep your skin in good health while also preventing signs of aging from appearing with the help of antioxidants.  
From age 40, skin cell renewal slows down and the skin starts to sag. Deeper lines and wrinkles appear, especially on the forehead and around the eyes. The eye area becomes more fragile: the skin becomes thinner, and dark circles and puffiness more obvious. To address the needs of your skin at this age, look for products designed to regenerate the skin, soften those first wrinkles, and prevent them from becoming more pronounced.   
From the age of 50, wrinkles are more numerous and deeper. The skin loses tone and becomes drier and finer. The jawline and facial features lose definition. Plus, for women, hormonal changes related to menopause accentuate the signs of aging. At this age, you should look for a skincare product that aims to restructure the skin, restore density, fight loss of firmness and prevent deep wrinkles. 
WHAT ARE THE BEST COSMETIC INGREDIENTS TO FIGHT SKIN AGING?
To meet your skin's different needs from the age of 30 and help keep it in good health, it's important to look for the right pro-aging cosmetic active ingredients. Give priority to natural and organic ingredients, so you'll know the product is effective and, above all, not toxic for your body or the planet!
Antioxidants
Your first pro-aging step is to prevent the natural oxidation of the skin with the help of antioxidant active ingredients. These will act like a shield, working to neutralize excess free radicals in skin cells that destroy living tissue. Antioxidants help to protect, stimulate and repair the skin. There are lots of naturally occurring antioxidants. You'll find them in various natural cosmetic ingredients, such as botanical oils, which are rich in essential fatty acids and Vitamin E.
       Sea Buckthorn oil is incredibly rich in antioxidant Vitamins A and E. It helps to protect the skin against free radicals and stimulate its natural functions. Plus, because it's rich in beta-carotene, it helps to brighten and even out the complexion. This amazing ingredient leaves skin feeling nourished, supple... and younger! There are also plant and mushroom extracts with antioxidant benefits: 
       Maca, a medicinal plant native to Peru, has powerful antioxidant properties, which make it an excellent ingredient in pro-aging skincare products.
       Snow mushroom, a fungus from China, helps to significantly reduce cellular oxidation.  
If you have very sensitive skin, look for products with Oat among the ingredients. Oats contain avenanthramides – antioxidants that help to relieve irritation, redness and itching. You'll find these active ingredients in Le Booster LIFT, Le Masque Velours Repulpant and Le Booster Superfood.
Active ingredients that promote proper cell functioning
In order to prevent and correct the effects of time on the skin, it's crucial that you focus on two key areas. Firstly, you want to have good cellular cohesion, to avoid loss of moisture and lipids. Secondly, you want to encourage cell renewal, which tends to slow down as you get older. This will help you on your way to plump, well-moisturized, nourished and softer skin! Opt for natural moisturizing, nourishing and regenerating active ingredients.
Resurrection Plant, rich in polyphenols (excellent antioxidants!), helps to protect against skin dryness, stabilize moisture levels and strengthen the lipid barrier.  
Rhizobian Gum acts as a "moisture reservoir" and helps to maintain skin hydration by delivering water according to the skin's needs.
Aloe Vera gel and Snow Mushroom not only boast antioxidant benefits; they also have exceptional hydrating properties. Snow Mushroom replenishes moisture and helps to restore the skin's barrier function, while Aloe Vera works to moisturize, soften and deeply regenerate the skin. 
To promote skin cell renewal, look to Mamaku – a tree fern from Tahiti used by the Maoris, and a powerful tissue regenerator. Neroli hydrosol is also known for its regenerating properties for dry and not-so-young skin!
Alfalfa is another ingredient worth looking out for. Native to Central Asia and the Middle East, it's used as a sprouted seed. Its Vitamin U content (this vitamin contains an epidermal growth factor) makes it very effective on skin regeneration. And then there's Calcium, which helps to strengthen cell cohesion and accelerate cell renewal.
You'll find these active ingredients in Le Masque Velours Repulpant, Le Booster LIFT, La Crème Réparatrice Regard, La Brume Systémique and L'Eau Soir et Matin.
Active ingredients that lift, restructure and restore density 
Finally, an effective pro-aging skincare product should contain active ingredients that act on skin thickness, suppleness, firmness and radiance, while also smoothing lines and wrinkles. At Absolution, we love to work with Horsetail. This plant is rich in silicon – an element involved in the formation of collagen, which builds the skin's support tissues. It has excellent firming properties and promotes tissue elasticity.
Hyaluronic Acid helps to maintain skin elasticity, particularly in fragile areas such as the eye contour, while also offering a natural lifting effect.
Calcium Ketogluconate stimulates the production of hyaluronic acid (+ 92.7%) and elastin (+ 35.8%), for skin that feels firmer and more toned. It also helps to combat the formation of wrinkles.  
Horse Chestnut extract boasts powerful firming properties, while Centella Asiatica (an herbaceous plant native to Oceania) promotes fibroblast proliferation and collagen synthesis. Both these ingredients act on skin firmness.
To smooth out wrinkles and fine lines, look for pro-aging products enriched with Acmella – a plant that works to reduce the intensity of skin micro contractions – or with Magnesium, a natural anti-stress mineral. Treat your skin to a Botox-like effect, but without the needles – or the risks!  
Other natural anti-wrinkle ingredients include Alfalfa, which helps to reduce expression lines and inhibit the enzymes that break down collagen. Then there are Beech Bud and Mamaku, which both have a lifting effect. You'll find these active ingredients in Le Booster LIFT, Le Masque Velours Repulpant, La Crème du Soir, La Crème de l'Homme, La Crème Réparatrice Regard and La Crème Beau Jour. 
Nature is bursting with pro-aging ingredients – some of them famous, others not so much... All you have to do is choose the ones that are right for you!