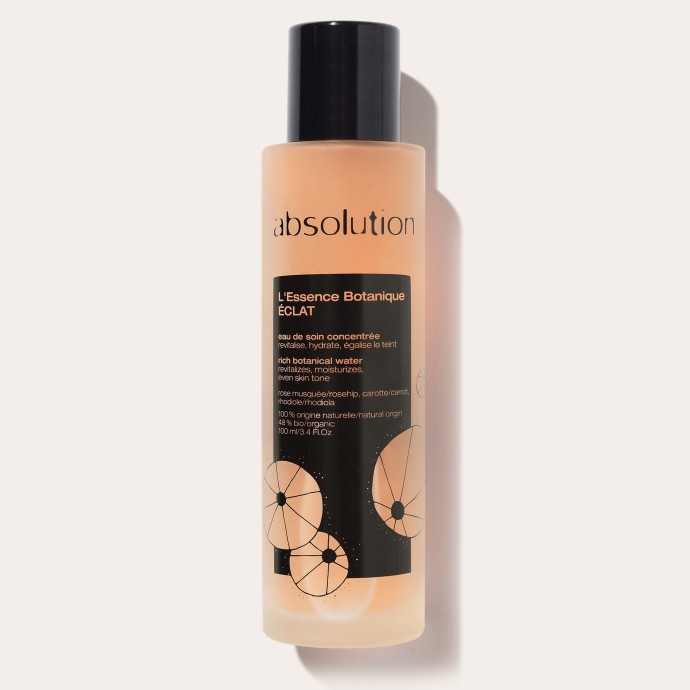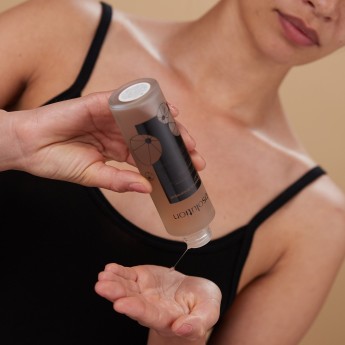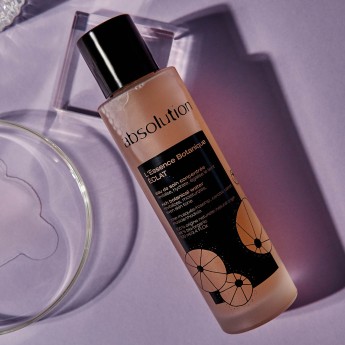 4.7
115 reviews
L'Essence Botanique ÉCLAT
Revitalizing & antioxidant botanical water
L'Essence Botanique ÉCLAT hydrates, evens out, and revitalizes tired skin. Use it both morning and evening to prep your skin before applying your skincare routine, and to optimize the absorption of active ingredients. 
See more
Moisturizes, Revitalizes, Tones
Suitable for Dull, dry and sensitive skin
5 active ingredients with Rhodiola, Carrot, Aloe Vera, Lemon Balm ...
Ingredient list
INGREDIENTS (B173.09) : AQUA (WATER), GLYCERIN, MELISSA OFFICINALIS FLOWER/LEAF/STEM WATER*, POLYGLYCERYL-4 CAPRATE, LEUCONOSTOC/RADISH ROOT FERMENT FILTRATE, CITRUS AURANTIUM AMARA (BITTER ORANGE) FLOWER WATER*, DAUCUS CAROTA SATIVA (CARROT) SEED EXTRACT*, PROPANEDIOL, XANTHAN GUM, ARGININE, ALOE BARBADENSIS LEAF JUICE POWDER*, LEVULINIC ACID, ALCOHOL**, PHYTIC ACID, SODIUM LEVULINATE, HYDROLYZED ACACIA MACROSTACHYA SEED EXTRACT, MALTODEXTRIN, HELIANTHUS ANNUUS (SUNFLOWER) SEED OIL, CAPPARIS SPINOSA FRUIT EXTRACT, PELARGONIUM GRAVEOLENS OIL*, PRUNUS PERSICA (PEACH) LEAF EXTRACT*, MORUS NIGRA LEAF EXTRACT, RHODIOLA ROSEA ROOT EXTRACT, CYMBOPOGON MARTINI (PALMAROSA) HERB OIL*, PLANTAGO OVATA SEED EXTRACT*, ROSA CANINA SEED EXTRACT*, FERULA GALBANIFLUA (GALBANUM) RESIN OIL*, PYRUS MALUS (APPLE) FRUIT EXTRACT*, RUBUS IDAEUS (RASPBERRY) FRUIT EXTRACT*, CALENDULA OFFICINALIS FLOWER EXTRACT*, ALKANNA TINCTORIA ROOT EXTRACT, ROSMARINUS OFFICINALIS (ROSEMARY) LEAF EXTRACT*, CITRIC ACID, GERANIOL***, CITRONELLOL***, LINALOOL ***
*Ingredients from organic farming
**Made using organic ingredients
***Natural constituents of essential oils
100% natural origin of total, 48% of the total ingredients are from organic farming
Loved by our customers
4.7
115 reviews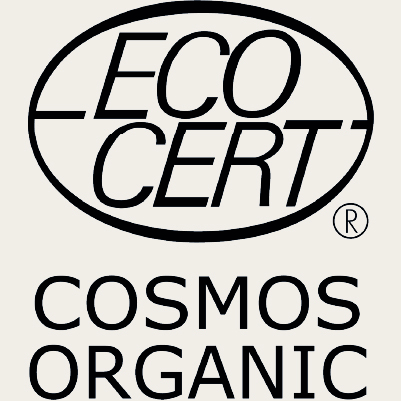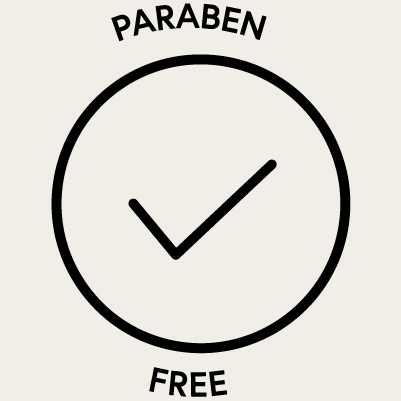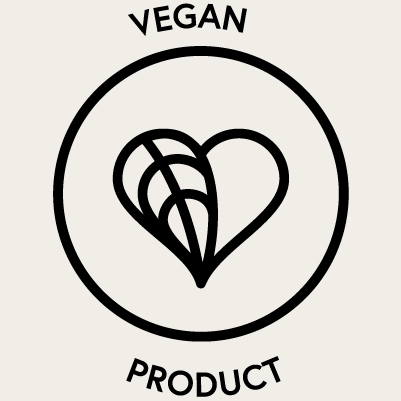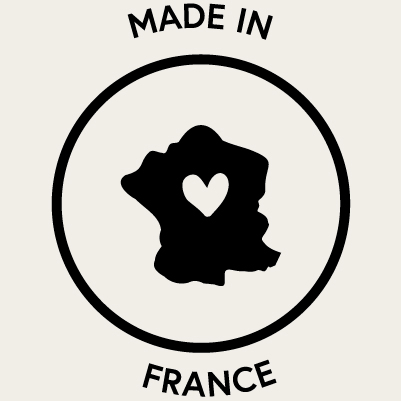 Vegan, Ecological and Natural, certified COSMOS Organic by Ecocert, Unisex, Made in France.
0%
PEGs, PHTALATES, MINERAL OILS, GMOs, AND SYNTHETIC FRAGRANCES.
L'Essence Botanique ÉCLAT is perfect for use in the morning, to gently stimulate your skin and get it ready for the busy day ahead. In the evening, you can use it after your cleansing routine, so your skin's perfectly prepped for your nighttime skincare products.
Pour a few drops into the palm of your hand, then apply to the face. Use your palms to lightly press it into the skin. The warmth of your hands will help it to absorb more easily. Follow with your usual skincare routine.
For which skin type is the l'Essence Botanique Eclat most suitable?
It is ideal for skin lacking vitality, radiance and dry, sensitive skin.
What is an Essence?
An essence is a form of beauty water that is highly concentrated in active ingredients while remaining light. Used after a toner and before a serum, it delivers a high dose of moisture and targeted treatments to the lower layers of the skin, increasing the effectiveness of subsequent treatments.
Can I use it morning and night?
Yes, of course you can! In the morning, it is ideal for stimulating the skin. In the evening, it will complete the cleansing and prepare the skin for the treatment.
How can I incorporate it into my routine?
You can apply the l'Essence Botanique Eclat just after cleansing your skin or applying your toner and before applying your skin care products. It will increase the effectiveness of subsequent treatments. This is the principle of Asian layering: we multiply the steps to better hydrate the skin. If you already use La Brume Systémique, apply the Brume in the morning and the Essence in the evening.
Can I use it if I am pregnant or breastfeeding?
L'Essence Botanique Eclat contains essential oils. Even though the amount used daily is very small, each pregnancy is unique and it is best to ask your doctor for advice and to provide him/her with the list of ingredients of the product in order not to take any risks.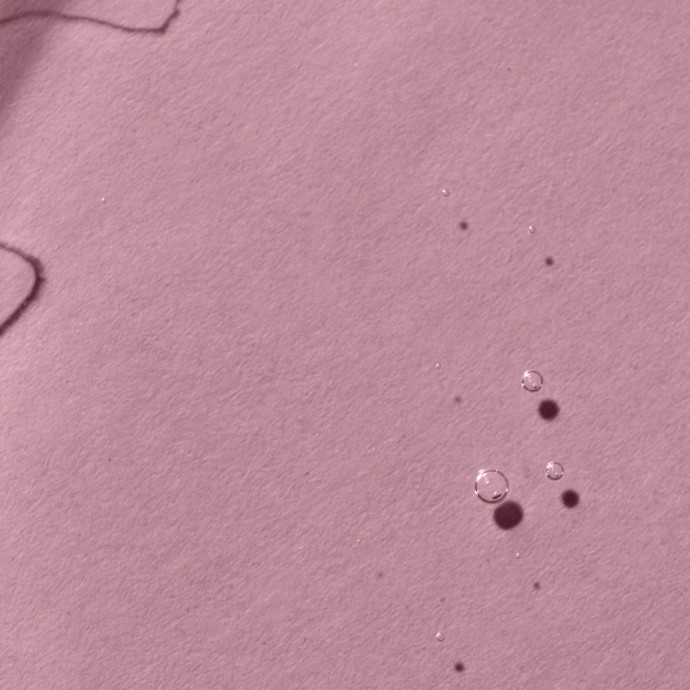 5 Active ingredients

Rhodiola
Rhodiola, also known as "golden root", is an adaptogenic plant that has been used for centuries in traditional medicine for its beneficial properties for health. In cosmetics, Rhodiola is used for its antioxidant and anti-inflammatory properties, as well as its potential to stimulate collagen production.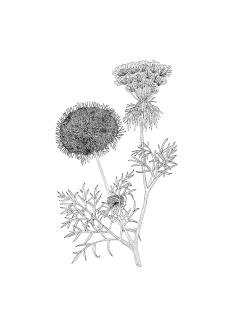 5 Active ingredients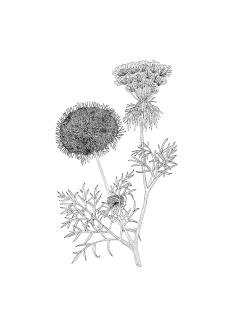 Carrot
Ideal for skin detox and clearing the complexion. It promotes cell growth, helps to tighten tissues and can soothe irritated skin.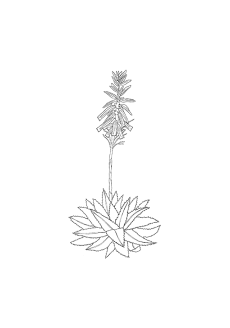 5 Active ingredients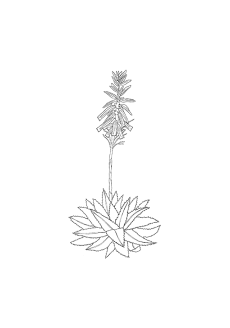 Aloe Vera
One of the most widely used medicinal plants, Aloe Vera is used to treat burns, including sunburn, to heal wounds and to combat cellular aging. Its composition is very interesting: like a cactus, it contains over 99% water. The remaining 1% is a very potent synergy of 12 vitamins (A, B1, B2, B3, B12, C, E...) but also numerous minerals, trace elements and amino acids.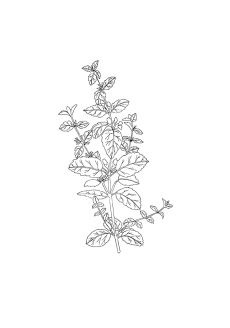 5 Active ingredients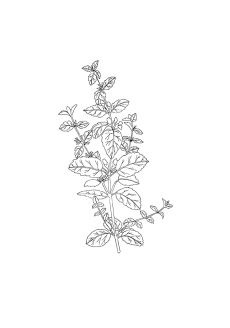 Lemon Balm
Lemon balm essential oil both purifies and regulates, thanks to its anti-inflammatory and purifying properties.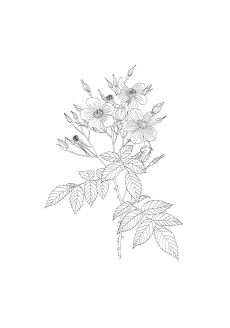 5 Active ingredients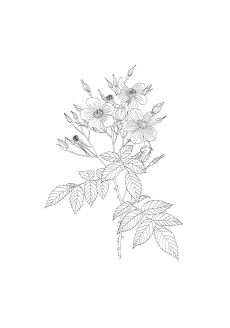 Rosehip Oil
Rich in polyunsaturated essential fatty acids, it has a regenerating and antioxidant action.
The average score of L'Essence Botanique ÉCLAT is 4.7 out of 5 after the 115 experience feedbacks gathered from our clients.
For each review, you will collect 20 points, which can be converted into a €1.40 voucher!
L'Essence Botanique botanical waters
Are you familiar with our botanical waters? As the name "L'Essence Botanique" suggests, these products are essences. But do you know what that means exactly? Essences may not be the biggest stars in the world of skincare, but their benefits have been proven – and the skin loves them!
Applying an essence is a key step in the beauty routine of many Korean women. It's a product that looks and feels much like a toner, but the two products actually have little in common. The textures may be similar, but the benefits aren't! While a toner is designed mainly to revive and tone your skin, an essence cares for the skin and makes it more receptive to the products applied afterwards.
An essence is not as rich in active ingredients as a serum. It's perfect if your skin is young and you don't feel ready to use a pro-aging serum, but would like to give your skin some extra antioxidants and protection. Choose your essence according to your skin's mood. Both of our L'Essence Botanique botanical waters help to boost collagen and elastin production, while hydrating and protecting your skin.
Apply your essence morning and evening, before your moisturizing cream or lotion. In this way, it will optimize the absorption of the active ingredients in your skincare products, so they're even more effective. It leaves your skin revitalized and hydrated, and your complexion more even.
Is L'Essence Botanique ÉCLAT the right product for you?
When your complexion is dull, it's due to various factors, both internal and external: pollution, oxidative stress, hormonal changes, an overly rich diet, lack of sleep, etc. All these factors affect the quality of your skin. In addition, when dead cells build up and aren't removed, your skin can no longer reflect the light, and tends to look lackluster and uneven.
To breathe new life and light into your skin, adopt a beauty routine designed to boost radiance, oxygenate skin cells, and boost their growth.
Ideal for devitalized skin, L'Essence Botanique ÉCLAT gently stimulates your skin, and gives it the strength it needs to get through the day! By applying it in the morning, you'll protect your skin from pollution and oxidative stress, while the antioxidants it contains will help to prevent the effects of skin aging. Apply it again in the evening, after removing makeup and cleansing, to make your skin more receptive to the products that follow and intensify their effects. Then apply your serum and favorite face cream, and your routine is complete!
L'Essence Botanique ÉCLAT is certified organic and does not contain any controversial ingredients. It harnesses the benefits of botanical active ingredients to hydrate, protect, and improve your skin's appearance every day.
- Rosehip oil. Rich in polyunsaturated essential fatty acids, this delicately scented oil has regenerating and antioxidant properties, and helps to protect cells from oxidative stress. When applied regularly, it can reduce the appearance of scars and dark spots.
- Carrot Seed oil. Rich in carotenoids, this oil is excellent for evening out skin tone. It stimulates cell growth, tightens pores, and soothes irritated skin. This oil can also help to protect against UV rays, although it's important to note that it's not as effective as a sunscreen. While there are botanical oils that provide some protection against sun damage, you should never skip on sunscreen if you want to protect your skin well and keep it in good health.
- Rhodiola. Also known by the name of "golden root," Rhodiola helps to strengthen the skin's resistance to environmental aggressors, reduce blemishes, and even out skin tone. It has been used for centuries in Russian, Scandinavian and Chinese medicine for its invigorating and stimulating properties.
- Lemon Balm hydrosol. With both purifying and skin-regulating properties, this ingredient helps to fight skin stress and soothe irritated skin.
- Aloe Vera. Known for its healing, hydrating and antioxidant benefits, Aloe Vera is made up of 99% water, and contains a powerful synergy of 12 vitamins and minerals.
L'Essence Botanique ÉCLAT also contains hydrating Acacia Macrostachya, soothing Calendula, astringent Black Mulberry leaf extract, and antioxidant Apple and Raspberry seed extracts. Certified organic and rich in natural active ingredients, it works to soothe and firm the skin, tighten skin tissues, and even out the complexion.
After application, your skin is visibly softer, more radiant, and more evenly toned.
Good to know: Held in a 100% recyclable glass bottle, L'Essence Botanique ÉCLAT is good for both your skin and the environment!
COSMOS ORGANIC certified by Ecocert Greenlife according to COSMOS Ecocert available at https://cosmos.ecocert.com.
Complete your ritual with
Le Booster Eclat
To brighten your complexion even more apply Le Booster Eclat. This serum fights off the late-nights, wakes up the skin and gives it an incomparable glow. A favorite with makeup artists who also use it as a base before foundation!