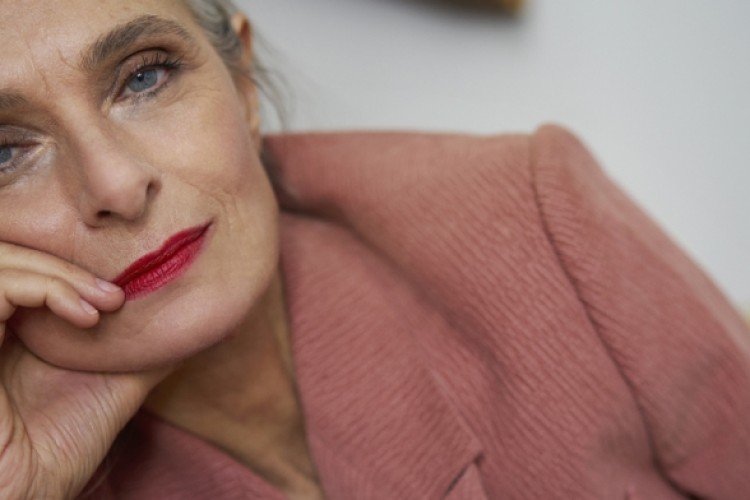 "Please don't retouch my wrinkles. It took me so long to earn them," said Anna Magnani.
What if we, too, stopped trying to turn back time, fight skin aging and erase all our wrinkles?
Once you've reached the age of 60, it's time to stop worrying, to just go with who you are, and look at yourself kindly – like Anna Magnani did! Learn about the characteristics of your mature skin so you can meet its specific needs with gentle, effective and natural products.
We give you a few precious tips to help you look after yourself wisely and feel positive about getting older!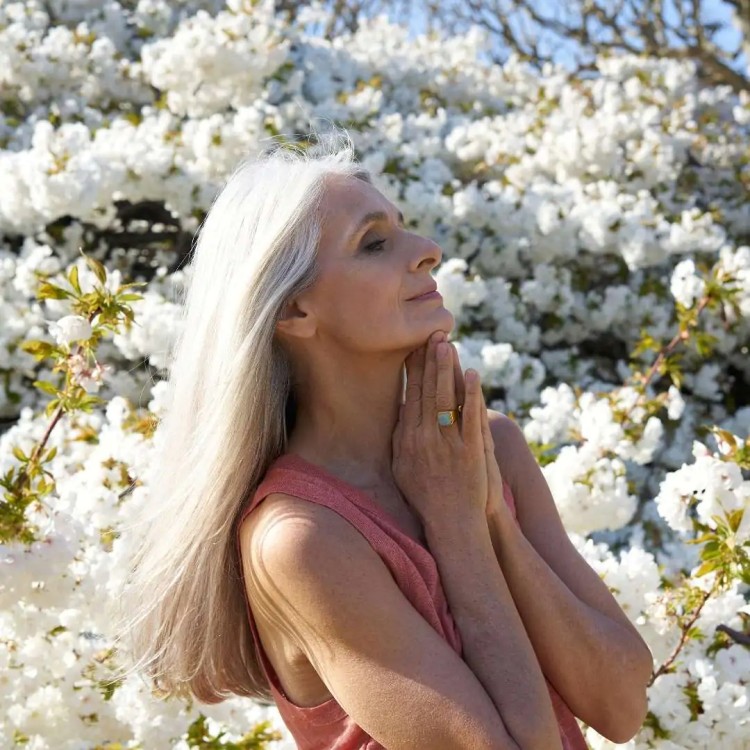 Understand mature skin
Once you're familiar with the condition and physiological functioning of the skin at different ages, you have a better understanding of its needs and can choose the most suitable, effective skincare products.
While everyone's skin ages as they get older, it ages faster in women after menopause. The production of certain hormones declines, disrupting the skin's balance, which explains why signs of aging are more visible around the age of 60 in women than in men.
After the age of 60, the following characteristics can be observed:
• The skin is thinner. It's estimated that its thickness decreases at a rate of around 6% every ten years. It loses volume.
• The skin is drier and may feel rough.
• The skin sags and loses suppleness.
• Wrinkles and lines are deeper and more pronounced.
• Dark spots are more numerous and more visible.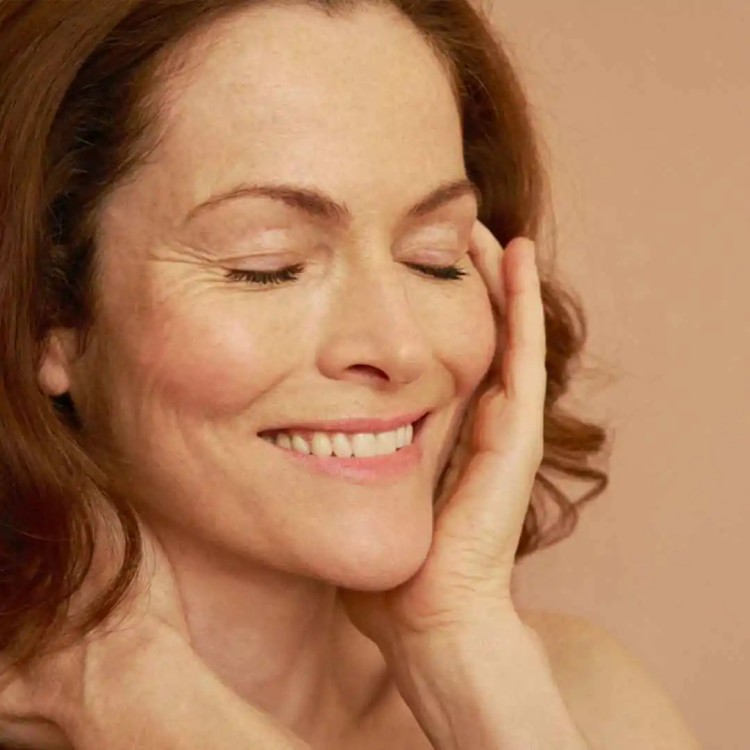 Many of these characteristics are due to the deterioration of two of the skin's essential properties.
• On the one hand, a loss of elasticity. Elastin fibers play a major role in the quality of the skin; they're responsible for the elasticity of skin tissue. However, after age 60, these fibers weaken, causing the skin to become less supple.
• On the other hand, a loss of firmness. The amount of collagen fibers in the skin also decreases over time, and particularly after age 60. As a result, the skin gradually loses firmness, slackens and sags.
It's perfectly natural for the skin to change over time. However, this phenomenon can be aggravated by other, external factors such as pollution, stress, exposure to blue light, the sun, etc.
Stress, for example, can cause lines to deepen as it may slow down cell renewal and collagen production. If your skin has suffered from stress for many years, it will be even more fragile once you reach the age of 60.
With all these different changes, the skin loses its ability to attract and hold in moisture. It becomes thinner, drier, less supple, less toned, more lined. So it has specific needs. Natural, organic cosmetic products can provide an effective solution to meet these needs and help your skin stay balanced.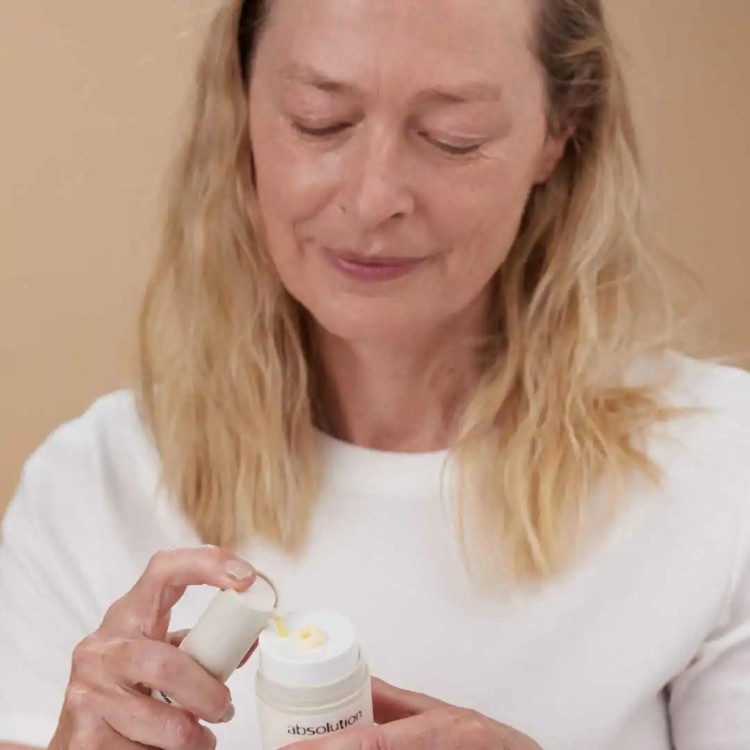 What are the skin's needs after the age of 60?
A skincare product designed for mature skin, for age 60 and over, will address the following concerns:
• Hydrate and nourish – The skin needs to be deeply rehydrated with the right active ingredients in order to restore the hydrolipidic film, provide better protection against external aggressors, and prevent dryness.
• Stimulate natural collagen production, to firm tissues and act on sagging. This helps to plump the skin and improve elasticity.
• Stimulate the natural production of elastin fibers, to restore suppleness and reduce the appearance of wrinkles.
• Even out pigmentation and improve skin microcirculation, to diminish white or dark spots and even out skin tone.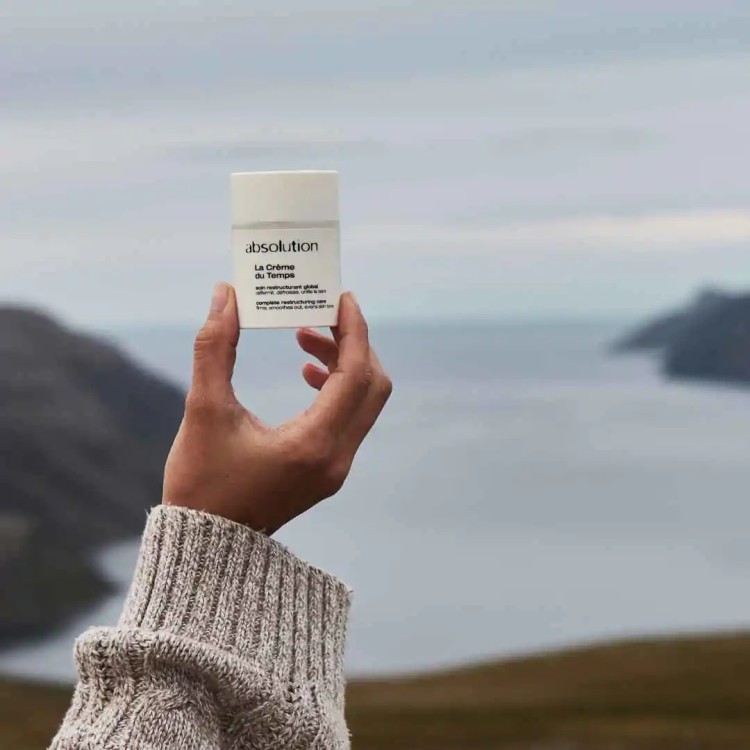 Mature skin : your after-60 beauty routine
Not-so-young skin can be fragile and extra sensitive, so it needs lots of pampering. We take a look at the ideal beauty routine to help keep your skin radiant, even when you're 60!
Natural and organic skincare
The biological profile of natural cosmetic active ingredients (botanical oils, floral waters, trace elements, vitamins, etc.) gives them an excellent affinity with the skin. Organic skincare formulas are better absorbed by the skin and interact with it better, which makes them very effective. They're also perfectly safe for your skin and health. Formulated without parabens, PEGs, phthalates, mineral oils, GMOs, synthetic colorants or fragrances, Absolution products are both gentle and safe for not-so-young skin that's particularly sensitive and fragile.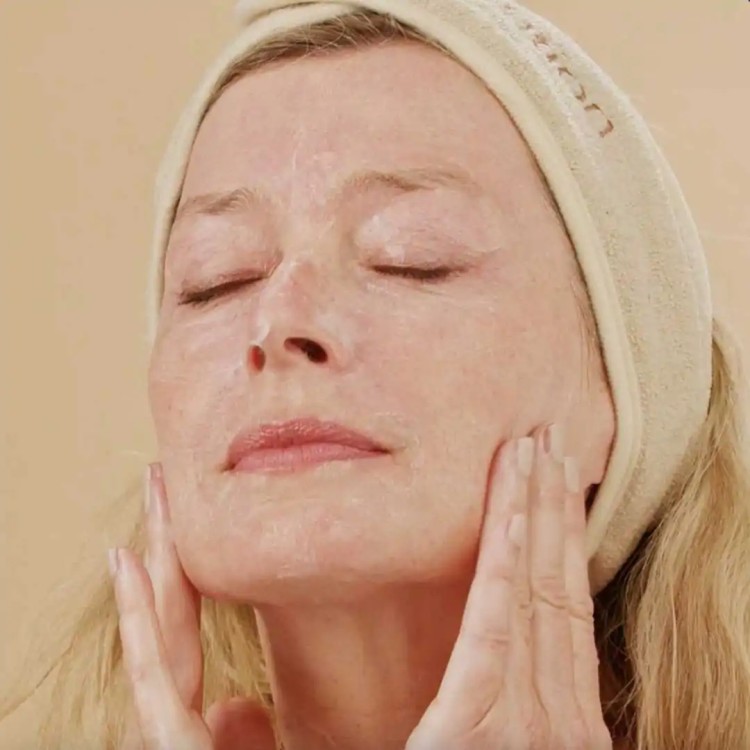 Never skip cleansing
Every morning and evening, begin your beauty ritual by cleansing the face and neck. This will help to keep your skin in good health, leave it better oxygenated, and stimulate skin renewal. Plus, when your skin is clean and fresh, it's more receptive to the products applied next.
Because mature skin tends to be fine and sensitive, opt for a gentle, natural, organic facial cleanser that purifies without being harsh on the skin.
We recommend cleansing more deeply in the evening, with Le Nettoyant Pureté or La Crème Douce Démaquillante. In the morning, try using L'Eau Soir et Matin or La Brume Systémique, which will refresh and wake up your skin without damaging its hydrolipidic film.
Exfoliate… gently
When we're young, our skin renews itself completely every 28 days on average. But over time, this natural regeneration process slows down.
After the age of 60, it's absolutely essential to exfoliate the skin gently in order to stimulate its capacity to regenerate itself. Exfoliating also helps to rid the skin of dead cells, so the complexion looks more radiant.
As we've already mentioned, mature skin can be extra sensitive, so make sure you use a gentle, organic face scrub and massage it gently over the skin with circular movements. You only need to use a scrub every ten days or so. On a daily basis, you can use the konjac sponge, which exfoliates really gently and stimulates the skin. Slip it into your evening cleansing routine!
Hydration, hydration, hydration!
After exfoliating, you should always follow with a face mask. This is an essential step to help keep your skin balanced. Gentle exfoliation refines the skin's texture, so it's ready for a skincare product that works deep down. Not-so-young skin will love moisturizing masks like Le Masque du Temps Redensifiant, which works to stimulate and boost natural collagen production, tone skin tissue, and fade dark spots while preventing more from occurring.
Never skip moisturizing – it's vital that you hydrate your skin daily.
Older skin tends to be dull and dehydrated, especially after the age of 60. If you want to keep it bright and beautiful, focus on hydration. You'll feel the effects quickly, as the hydrating ingredients replenish lost moisture. By applying a deeply moisturizing, anti-wrinkle cream morning and evening, you'll help to reduce the appearance of wrinkles and restore freshness, suppleness and radiance.
Keep time on your side with La Crème du Temps – an exclusive blend of ingredients (Poet's Narcissus, Pomegranate, Edelweiss, Atlantic Wakame and 18 botanical extracts) that works to firm, smooth out and repair the skin. It helps to restore density, combat wrinkles and fine lines, boost cell renewal and reduce the appearance of dark spots. A high concentration of polyphenols and beta-sitosterol gives it soothing and protective properties. You can also create your own customized skincare – which not-so-young skin often needs – by combining La Crème du Temps with Le Booster LIFT orLe Booster SUPERFOOD.
Nourishment and protection
While it's crucial that you keep your skin well moisturized after age 60, it's also very important to nourish it with essential fatty acids. Nourishing active ingredients work to restore the skin's hydrolipidic film, forming a barrier that prevents moisture from evaporating. By nourishing the skin, you maintain its natural moisture levels while also helping to improve suppleness and strengthen its defenses against external aggressors.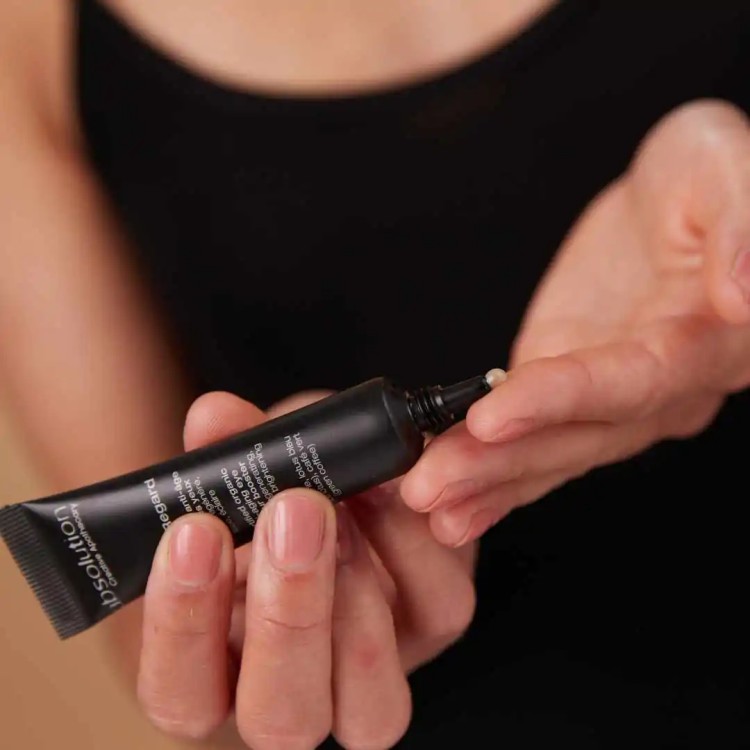 Don't forget the eye and lip areas
The skin around the eyes and lips is much finer and much more fragile than the skin of the rest of the face – and even more so when you've reached the age of 60. So don't skimp on eye and lip contour products! They'll help to soften fine lines that have formed around your eyes and lips over time.
To keep your lips hydrated and protected, make sure you always have Le Baume with you. Its texture makes it ideal for keeping lips soft and supple. It's also rich in healing Calendula, nourishing Perilla and antioxidant Marula, to help delay the appearance of the signs of aging in this fragile part of the face, constantly in use.
As for your eyes, they'll love Le Soin Regard. This formula is rich in de-puffing Green Coffee, so it's great for diminishing puffiness and dark circles. There's also La Crème Réparatrice Regard, rich in Hyaluronic Acid, to smooth and firm the eye area.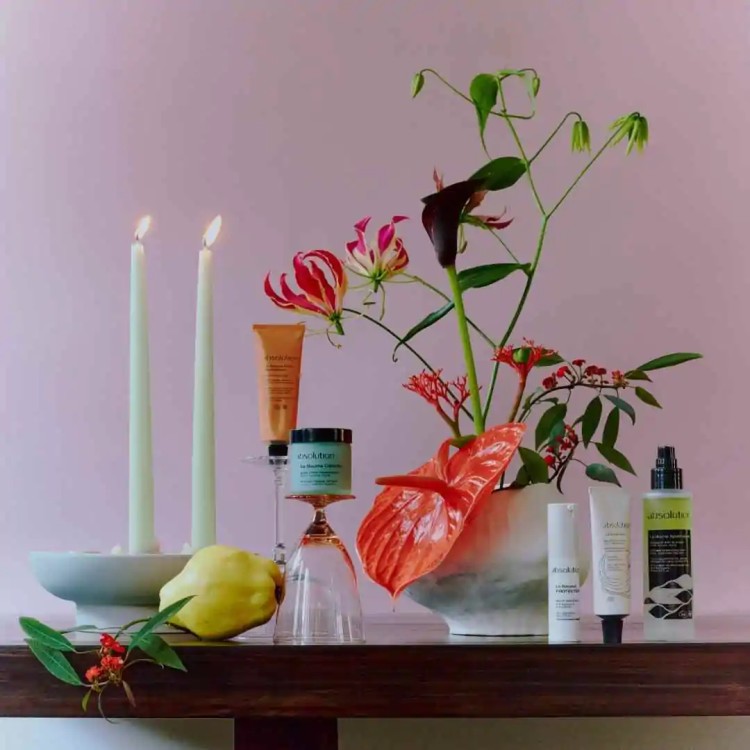 The power of pro-aging active ingredients
A good cream for mature skin will contain natural, targeted, pro-aging, anti-wrinkle active ingredients. These include:
- Antioxidants (green tea, botanical oils, etc.), to protect skin against free radicals and help slow down the effects of skin aging.
- Hyaluronic acid, to maintain skin's elasticity. Levels of hyaluronic acid naturally decrease as we get older. A cream that's rich in hyaluronic acid will rehydrate the skin deep down and help maintain the proper functioning of cellular cohesion, for smoother, more supple skin.
- Collagen or active ingredients that help to increase collagen synthesis (calcium ketogluconate, centella asiatica, etc.), to restore tone and elasticity.
- Calcium (strengthening) and natural acids such as AHAs, to help boost cell regeneration.
- Plant proteins, to restore density and firm the skin. These can be found in Argan oil – a truly excellent skincare ingredient!
Pro-aging
Because Absolution takes a resolutely pro-aging approach, we have decided to gradually remove any "anti-aging" claims from our packaging... without changing our formulas, of course ;-)
So, once you've reached the age of 60, embrace your wrinkles! Our beauty ritual will help to keep your skin in good health. We're sure it will thank you for it!